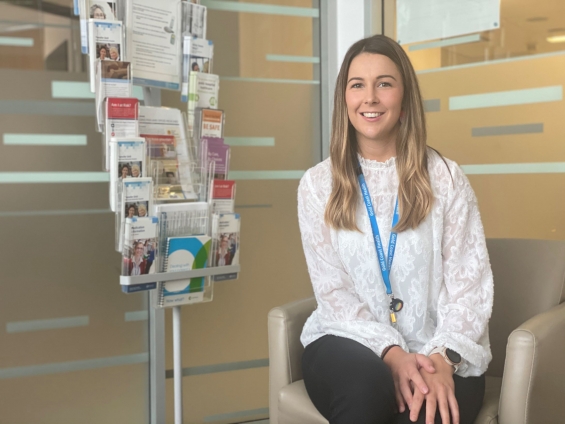 It was advice from someone important in her life that prompted Kim to start a career in social work – despite not knowing what it was.
"I've always been really passionate about health and wellbeing and knew that I wanted to work in a hospital in some capacity but wasn't quite sure what that looked like," she said.
"I had never heard of social work before so after a bit of research I quickly realised the social work practice framework really aligned with me.
"It quickly became a natural fit for me. I have never looked back and it's been a really rewarding career for me so far."
For the past six years, Kim has worked in a number of clinical areas including; acute mental health, general medical, emergency and paediatrics. Today she can be found supporting patients in the neurosurgery unit.
"This is a specialist area for brain and spinal surgery. Our patients on this ward have often experienced a traumatic event or sudden onset of disease in their brain or spine.
"Social workers work closely with patients and their families to support their emotional wellbeing, and to address any psycho-social needs they may have during their healthcare journey.
"We know that any change in someone's health status can cause a lot of stress and I feel truly privileged to work alongside patients and their families during this time of high vulnerability."
While the role of a social worker may differ depending on the clinical setting they are working in, we play a key role in discharge planning and continuity of care when a patient is transitioning back into the community to their home.
"It's ensuring the social connection and support is in place to keep people well in the community and keep them thriving," Kim said.
Empathy is an important trait for anyone considering a career in social work.
"And that's really acknowledging that no two people are the same, we all come from different walks of life, we all have different lived experience. It's being flexible in our thinking and being adaptive to what our patient's needs are."
Kim says practicing self-care from early on was essential to sustaining a long career in social work.
"We need to look after ourselves to be able to be there for others," she said.
"That can be done in lots of different ways, connecting with friends and family, looking after your own health and well-being and being near the ocean is key for me."
Today is World Social Work Day – thank you to all of our amazing social workers who help people on their health care journeys.
External Link
https://www.goldcoast.health.qld.gov.au/our-services/allied-health