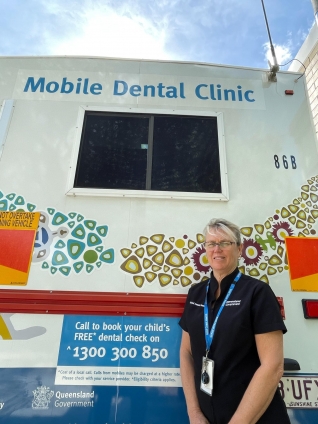 It's being a part of a great team and making sure people know the importance of oral health that has kept Helen Bartlett (aka Cookie) coming back to her job each day for the past four decades.
Cookie was going to study teaching but fell into oral health which enabled her to pursue an elite level sporting career. She played field hockey at a senior state level for Queensland for four years and indoor hockey for Australia for three years.
However, it has been travelling from school to school in the Gold Coast Oral Health Service mobile clinic that remains highlight of the dental assistant's career.
"Being involved in a team that delivers vital dental care along with educating children, parents, grandparents and carers about how important dental health is to overall health, has been the most rewarding experience," she said.
Cookie has witnessed many changes in the Child and Adolescent Services (COAHS), including updating of the vans, infection control protocols and management teams.
She said the service was always improving and was "leaps and bounds ahead of how it looked 40 years ago".
"Our service is situated at the heart of the schools enabling the most vulnerable of our communities, the children, ready access to world class dental facilities," Cookie said.
Cookie remembers the "good old days" in the "silver hot boxes" that only had one air conditioning system servicing two surgeries.
"I remember using the garden hose to hose the van down to cool it on the inside," she said.
However, one day when Cookie arrived at the "silver hot box" she noticed something missing.
"Someone over the weekend must have had a greater need, entered the school, stole the air conditioner and left the van with a skylight," she said.
Cookie said oral health team, particularly the staff she had worked with for many years, was "like a sisterhood".
"We've been through boyfriends, engagements, weddings and babies, sharing all these significant events together makes us a close-knit work family," she said.
"Thinking about retirement, my husband seems to have this idea of transitioning into the grey nomad's lifestyle but I think I've done my time in a caravan so he may have to join Ashton Circus."
Cookie will this week be recognised along side other long serving Gold Coast Health employees at our Thank You Week Length of Service Awards.