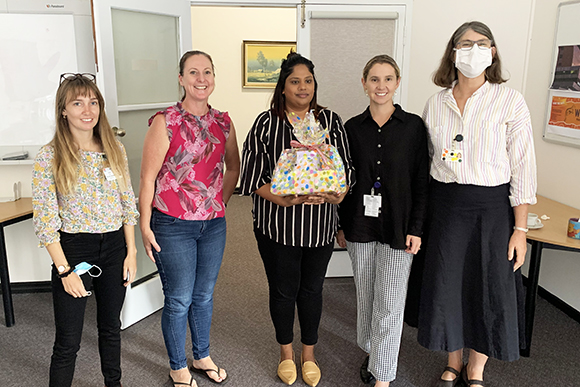 Community connections crossed borders when a team of our social workers travelled to Lismore Hospital to present a morning tea and gifts to social workers there.
The social work departments work closely with Lismore Hospital, with many of our transferred patients from there, according to Gold Coast Health NDIS Coordinator and Advanced Social Worker Sara Woodhouse.
"We wanted to let them know we were thinking of them and provide them with an opportunity to engage in some time out, self-care and talk about some of their main learnings of supporting the community following such a disastrous event," Sara said.
"It was amazing to hear of the resilience in both the community and the social workers within the hospital.
"They have managed to continue to provide a service despite the disruptions of being able to access their office, personally being affected by the floods themselves, and supporting the ongoing trauma experienced by many of their patients and the community."
Sara said they were able to raise more than $600 through individual donations within their area.
"We also purchased Woolworths, Coles and petrol vouchers for them to give to patients who have been affected by the floods, as well as some colouring book activity packs for the kids."
Chaplain Michelle Philp, who accompanied Sara to Lismore, said the Lismore social workers were extremely grateful for the support offered.
"They were absolutely floored that we were thinking of and supporting them in such a way and believe the community will really benefit from the donations provided," Michelle said.