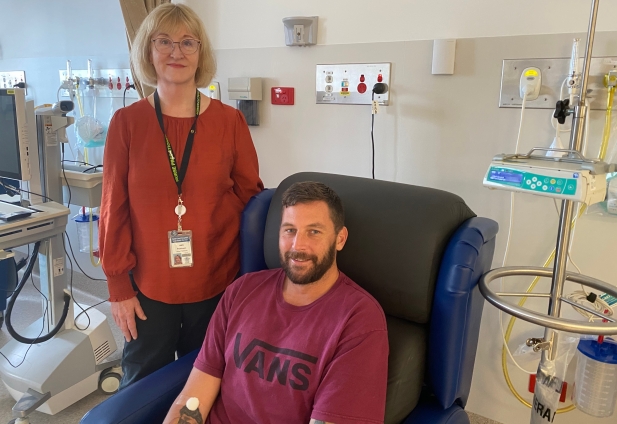 34-year-old Gold Coast Health patient Shawn Komidar has lost count of how many times he has broken bones since he was a child but estimates the number is somewhere in the vicinity of 50.
Shawn's bones are breaking down faster than they are regenerating and despite ongoing investigation, the reason behind his severe osteoporosis is largely undiagnosed.
One thing Shawn is certain about is that he has never received better care since his journey with his mystery illness began.
He attributes much of that improvement to Nurse Practitioner Ann Robinson, who has played a major role in Shawn's health care since he moved to the Gold Coast in 2018.
"I've been in and out of hospital systems for 15 years and I've been in pain every day for about 12 years so it is tough not really having any answers, but Ann has helped me to live a more normal life," Shawn said.
"She can do things like order my blood tests so I don't have to go into hospital and organise my work medical certificates to cover all my many appointments.
"There's people who do their jobs and there's people who go above and beyond, and Ann definitely goes above and beyond."
Shawn said coming into the care of Gold Coast Health was a turning point for him.
"I lost a bit of my drive a while ago but since I started going to Gold Coast University Hospital everyone took a real interest in trying to figure out what's going on with my condition," he said.
"Because other people were looking out for me, that inspired me to be healthier and try keep out of a wheelchair and stay as healthy as I can, for as long as I can."
Shawn is among 150 patients with osteoporosis and other endocrinology disorders who Nurse Practitioner Ann Robinson is involved with.
"We try to make sure every opportunity is made available to patients but also to keep patients functioning in the community whether it be at home or at work," Ann said.
"This year particularly with COVID-19, we've done a lot of remote consultations and keep in touch with via emails, texts and phone calls to limit the times patients need to come to hospital while ensuring they receive the care they need."
Nurse Practitioners are celebrating their 20-year anniversary in Australia in 2020. Ann said Nurse Practitioner Week (7-13 December) was a great opportunity for NPs to celebrate their own career journeys.
"We've all studied pretty hard to achieve this recognition as endorsed NPs and it's nice to celebrate that with the patients we care for," Ann said.
"I've been a NP for ten years. For me it was the next step in achieving advance practice clinical nursing.
"I really enjoy being able to work in my own clinic and to be involved in investigating and treating patients."
There are more than 35 different NP models-of-care across Gold Coast Health with NPs supporting patients in a broad range of areas such as sexual health, rheumatology and Alcohol and Other Drugs Services to name a few.
Nurse Practitioners practice collaboratively with other health professionals to improve access to healthcare through health promotion, disease prevention and health management.