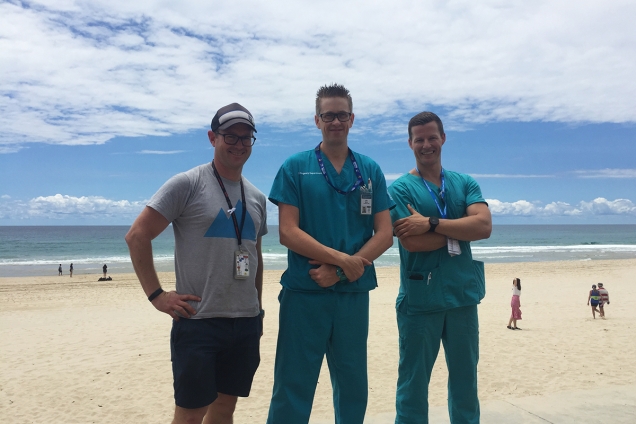 A collaborative research study led out of Gold Coast Health has confirmed that the temporary Schoolies Hub health facility we operate in partnership with the Queensland Ambulance Service each year is a successful emergency department avoidance strategy.
"We know that emergency department crowding and ambulance transportation rates continue to increase annually and mass gatherings like Schoolies and the Gold Coast Marathon can place additional pressure on our public health system," Gold Coast Health and Griffith University emergency care researcher Dr Amy Johnston said.
"We've been operating a temporary health facility at major events like Schoolies over the past decade and when we retrospectively looked at data from the 2014 Schoolies we found that out of 420 presentations to the temporary health facility, only 26 patients required transportation to a local hospital emergency department.
"There would be an incredible strain on our already busy emergency departments if 60 additional 16 to 18 year olds presented every night of Schoolies.
"Our research, supported with funding from the Gold Coast Hospital Foundation, confirmed that having an appropriately equipped health facility located in Surfers Paradise helps to reduce the impact of the already busy load within our hospital emergency departments," Dr Johnston said.
A skilled team of Gold Coast Health professionals will work alongside other health professionals and volunteers to operate this year's temporary health facility between the hours of 6pm and 2am.
The research is being presented at the Gold Coast Health Research Week conference, a three-day event currently underway showcasing research from Gold Coast Health, Griffith University, Bond University and Southern Cross University that aims to build a healthier Gold Coast. For a full conference program, visit http://bit.ly/2A4Uoz9