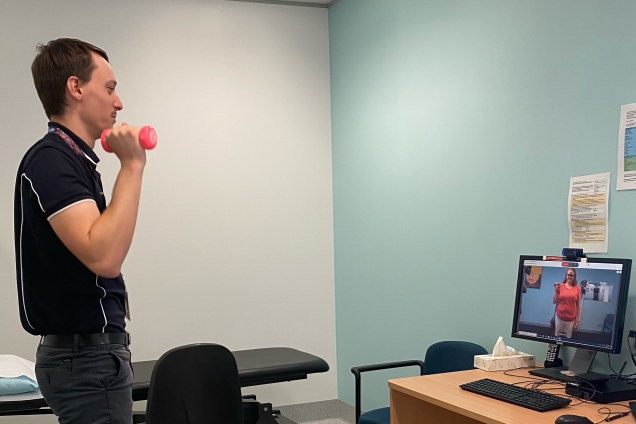 Gold Coast Health has set a new record on its 2020 virtual health care journey after delivering the 10,000th Telehealth (video conferencing) appointment to Gold Coasters in less than a year.
That's four times the average number of appointments delivered in the previous five years.
The 10,000th Telehealth appointment was delivered by a Speech Pathologist this month.
Telehealth Program Manager Priyanka Mishra said video conferenced consultation numbers had grown substantially as the health service adapted to the changes to health care delivery that the pandemic demanded.
"Just one clinical area was providing services via Telehealth in 2015. Now more than 40 clinical services are using the platform for health care delivery," Priyanka said.
"We've delivered an average of 1,000 Telehealth appointments per month this year which is substantial growth from the average of 20 appointments per month when the service was introduced.
"In fact, Gold Coasters are now among the highest users of video conferenced care from the comfort of their home in the state."
Executive Director for Integrated and Ambulatory Care Services Paula Duffy said the milestone was a credit to the clinical and non-clinical teams who've embraced the technology in pursuit of delivering person-centred care in socially distant times.
"Whether it be providing allied health care, urology specialist care, paediatric specialist advice or mental health care, multiple areas have worked hard to incorporate virtual care components in the patient journey starting from referral through to discharge," Paula said.
"As well as the benefits of improved patient access to health care, the reduced travel and inconvenience have also been a huge help to patients, families, carers and health professionals."
Each year on average Telehealth saves 4 million kilometres of road travel and 5 million kilometres of air travel. Queensland Health has one of the largest managed telehealth networks in Australia with videoconferencing systems currently available in more than 200 hospitals and community facilities across the state.