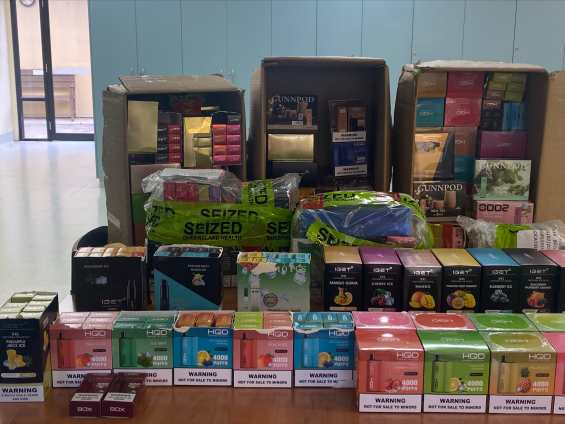 The Gold Coast Health Public Health Unit recently seized 805 personal vaporisers (vapes) from a Gold Coast tobacco retailer in response to a complaint from a concerned community member.

Samples of the seized vapes were submitted for analysis and all were found to contain nicotine.

Under the Medicines and Poisons Act 2019 (Qld) nicotine vaping products are illegal unless supplied by a pharmacist on prescription or obtained through an approved Therapeutic Goods Administration (TGA) process.

Gold Coast Public Health Unit Director Sharon Jurd, said since October 2021, the Therapeutic Goods Administration (TGA) had restricted the supply of nicotine for human use.

Only pharmacists are authorised to dispense nicotine vaping products on a valid prescription. It is illegal for other retailers to supply nicotine vaping products. The TGA undertakes compliance and enforcement activities to ensure its laws are upheld.

Ms Jurd said under the Tobacco and Other Smoking Products Act 1998 (Qld), e-cigarettes/vapes (regardless of whether they contain nicotine) cannot be:
• Sold to children under 18 years
• Advertised, promoted or displayed at retail outlets
• Used in no-smoking indoor and outdoor places
• Sold from mobile vehicles
• Given as a prize or incentive.

"We are extremely concerned about the growing and unacceptable levels of e-cigarette use among young people including school students. Flavours (such as watermelon, grape, bubble-gum, and mint) along with bright packaging makes vapes appealing to young people. The tobacco and vaping industry are targeting nicotine e-cigarettes at young people despite knowing they are harmful, and most are addictive," she said.

Vaping is linked to serious lung and heart disease and some of the chemicals in vapes are known carcinogens, which can damage human cells and DNA. The Australian National University (ANU) found use of nicotine e-cigarettes increases the risk of a range of adverse health outcomes, particularly in youth, including taking up smoking, addiction, poisoning, seizures, trauma and burns and lung injury.

"The healthiest option is not to vape or smoke," Ms Jurd said. "Testing has found numerous vapes labelled 'nicotine free' actually contain nicotine, further adding to the deception surrounding these products."

Gold Coast Public Health Unit Environmental Health officers are responsible for monitoring and enforcing the requirements of various public health legislation across the Gold Coast.

Officers have seized just under 12,000 vapes this year from retail outlets across the coast.

Any potential breaches of the smoking or medicines and poisons laws can be reported to us for follow up. Suspected breaches with details of the site of the offence can be reported to 13QGOV (13 74 68), to the local Public Health Unit, or via the online complaint form.