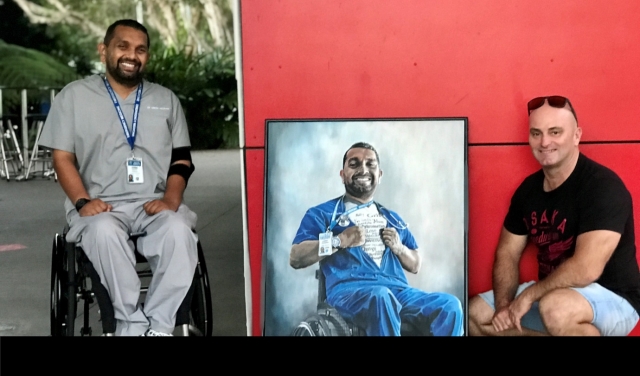 Art imitates life in this painting of Gold Coast Health Emergency Department's Dr Dinesh Palipana OAM.
Dinesh teamed up with local Artist Michael (Mick) Bain to drive inclusion and ability through this amazing portrait 'Serendipity'.
'Serendipity' has been selected as a finalist in the Brisbane art competition and tells a story of a doctor who has overcome many challenges when a car accident, left him a quadriplegic half-way through his medical studies and how, as a result of that accident, he actually found something good without looking for it (serendipity).
Dinesh, a member of Gold Coast Health's Abilities network, and doctor in our busy Emergency Department, deals with tough situations every day, but underneath his scrubs (as depicted on his chest in the portrait) is a remarkable and kind man.
A man who believes in inclusion and belonging for all and when confronted with adversity, embraced his new-found challenges, discovered his passion to help others both professionally as a doctor and personally, as an advocate for disability.
"Without inclusion my journey would not have been possible. Luckily, I had enough people in my life who chose to be inclusive, that's why friendship and people are mentioned on the shirt under my scrubs. They chose to fight for inclusion so I can be where I am today," Dinesh said.
"Another important part of the portrait for me is the word 'invictus' which means undefeated. A friend hung up the poem 'invictus' by my bedside when I was in hospital after the accident. The words of that poem are close to my heart and I carry them with me to this day."
"Most critically though, is Mick's want to express Dinesh's message through this artwork. That message is through unity and inclusion, we can be undefeated at achieve something meaningful" Dinesh said.
One of the biggest fighters in Dinesh's journey and constant in his life has been Dinesh's mum.
Mick said he saw the love and special bond Dinesh and his mum have wanted to capture that in the artwork with a special message.
"I included the words 'team Palipana' on the staff ID and included the word 'mum' across Dinesh's heart," Mick said.
If you like this artwork, you have the opportunity to vote for the portrait in the people's choice award, with the winner announced on Wednesday 6 October.
All the finalist's portraits will be on exhibition at the powerhouse museum for the month of October.