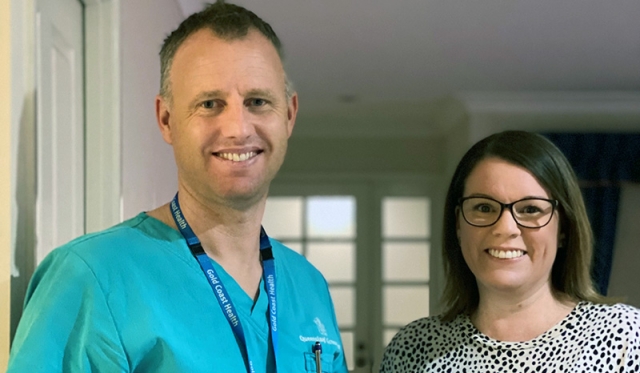 This World Inflammatory Bowel Disease (IBD) Day (19 May) the team at Gold Coast Health wants people suffering this debilitating illness, to know there is support to help manage the condition and improve their quality of life.
More than 10 million people worldwide are affected by Crohn's disease and ulcerative colitis, subtypes of IBD.
The Gold Coast University Hospital (GCUH) IBD clinic is one of the busiest in Australia, caring for more than 1600 patients.
Acting Clinical Nurse Consultant Tim Lyons was inspired to join the IBD team by his sister in-law Kirsty Puxley who lives with IBD and its many challenges.
"Kirsty was a great help when I first joined the team 12 months ago and now provides an invaluable patient perspective that helps guide my current nursing practice."
Kirsty is currently in remission but believes a lack of awareness was the reason for some difficulties throughout her journey. However, she now feels she has the support she needs via a phone advice line run by the IBD nurses.
"I have spent hours and hours in hospital waiting rooms in severe pain knowing exactly what is wrong with me," Kristy said.
"It has been frustrating in the past but now I can call one of the nurses to answer my questions or even organise a direct admission and bypass the emergency department, I know exactly how busy they can get."
Unlike many chronic illnesses IBD often affects young people and can have a significant impact on quality of life.
The stigma associated with a bowel condition can often result in people delaying seeing a doctor, and complying with treatment and/or medications.
Tim and the rest of the GCUH IBD team is working hard to reduce the stigma.
"Education is a large part of our job and the more discussion around this area of health can only improve outcomes for our current and new patients," Tim said.
Find out more about Inflammatory Bowel Disease and World IBD Day at www.crohnsandcolitis.com.au and www.worldibdday.org.