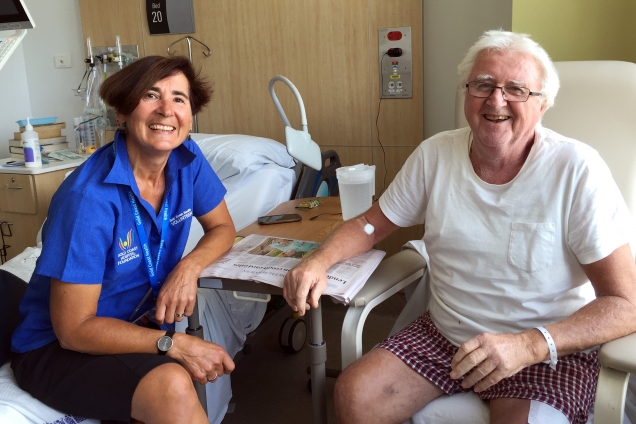 Gold Coast Health's Board members are joining our more than 300 volunteers in shifts across our health service as a way to gain unique insight into the patient-centred care on offer across our 20 facilities.
Board members will undertake shifts in one of the 22 services our volunteers support, looking for insights into how we can improve our service to the Gold Coast community.
Having spent her medical career working as an obstetrician, Board member Judy Searle first suggested the idea to an enthusiastic Board in late 2016. Today, Professor Searle has taken on a four-hour shift on the library trolley delivering magazines and books to inpatient wards.
"It's important for Board members to have a thorough and unfiltered understanding of what is happening across the health service, and one way we can do this is to get out and talk to patients and clinicians in the wards.
"Like a mystery shopper might look for insights into how a commercial business can improve, these shifts allow Board members a chance to build an understanding of how our community is using our services and how we can improve those services," Professor Searle said.
Gold Coast Health Board Chair Ian Langdon undertook his first shift with volunteers at Robina Hospital last month and said it gave staff an opportunity to approach him in a more casual way.
"As I pushed the café trolley around, I talked with many of our clinicians about some of the challenges of working with patients who are very unwell.
"I met one patient who has been coming into hospital for 15 years to receive kidney treatment, so it was really great to hear her insights into how our service has evolved and how much they appreciate the work of our volunteers," Mr Langdon said.
Gold Coast Health's nine Board members will be undertaking volunteer shifts throughout 2017 as part of a commitment to engage more closely with patients and staff.