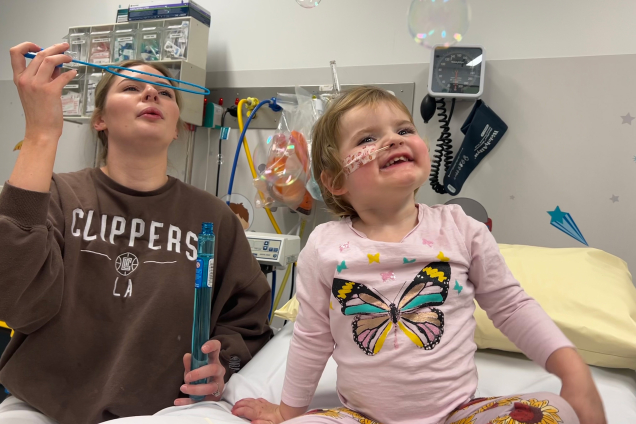 Vivacious three-year old Elsie is a far cry from the desperately-ill toddler who, 18 months ago, had been raced into Gold Coast University Hospital Emergency Department – limp and COVID-positive, in the arms of her frantic mother.
Elsie now merrily hums along to her favourite My Little Pony show, while mum Emma recounts the traumatic week leading up to her eldest daughter's leukaemia diagnosis.
Six days after Elsie was admitted to hospital, blood tests revealed they were dealing with far more than a severe case of COVID-19.
"Ben, my husband, had stayed with Elsie overnight, as only one parent was allowed in her room due to COVID protocols at the time. When he phoned, my body just went into shock. I fell to my knees, clutching my four-month-old baby Annie, and just screamed 'My poor baby!', over and over."
Now, as tears fill her mum's eyes, Elsie gently asks, "Am I dia-nosed?"
'Yes, sweetheart, you were diagnosed," Emma explains, "but these wonderful doctors and nurses are making your sick blood better."
Emma is aware that there are many other behind-the-scenes heroes helping to fight Elsie's ongoing battle, among them blood donors.
"If it wasn't for volunteers donating blood, Elsie would not be alive."
"Many people think that donated blood largely goes to trauma victims, but that's not the case. So many children fighting blood cancers, like Elsie, rely on blood and platelet transfusions."
Emma made the choice to share her eldest daughter's medical journey on social media and is using the platform to help recruit blood donors.
"I don't do it for the 'likes'," she said. "Sometimes people need to be shocked into action and, if they see a distressing photo or video of Elsie and learn what this experience is like for parents, it might prompt them to donate blood."
Emma's call to action comes during National Blood Donor Week 13 – 19 June 2023.
With so many regular donors ruled out due to Winter viruses, the Lifeblood annual event encourages new donors to roll up their sleeves.
"Donating blood is not just an act of generosity," said GCHHS Transfusion Clinical Nurse Consultant, Fiona Clark, "it is a lifesaving gift that strengthens our community."
"Together we can make a difference to ensure we have enough blood supplies to meet our growing clinical demands," Fiona said.
"I'm embarrassed to say that I had not given blood donation much thought before Elsie got sick," Emma recalls. "I always thought, someone else will do it."
"On my Facebook page, Elsie's Leukaemia Journey, so many people will say, 'Let me know if there's anything I can do to help'."
"Well, yes, there is something you can do – give blood!"
While Elsie is now in remission, her treatment is ongoing and Emma's fight to recruit donors continues.
"Please don't leave it up to someone else to give blood. This is not just for Elsie. You are fighting for the next child who receives a diagnosis, and the next child."
You can make a booking at Lifeblood today, and learn more about blood donation, at National Blood Donor Week.