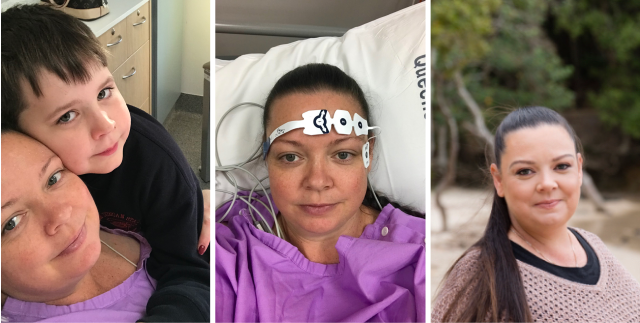 Letisha (Kalnins) Living is a young stroke survivor, stroke recovery coach, podcast host, and author. She is a mother to four boys, one who was born after her stroke, and she is also a valued member of Gold Coast Health's Consumer Advisory Group.
Letisha was only 35 when she unexpectedly had a stroke.
"I didn't present with 'typical' stroke-like symptoms. My symptoms were severe headache, visual disturbance, pins and needles on the right side of my body, nausea and a weak right hand," said Letisha.
It was four days between the onset of her symptoms to diagnosis, in which it was determined Letisha had suffered three ischemic strokes - in her left occipital lobe, left brain stem (pons) and bilaterally in her right-side cerebellum.
While Letisha has thankfully made a remarkable recovery, she still faces many post-stroke challenges.
"I suffer from hemianopia (neurological vision loss) and right-handed weakness, fatigue, anxiety and sensory overwhelm. Due to my vision loss, I haven't been able to return to driving after my stroke. That independence is what I miss the most."
For Letisha, the biggest challenge was accepting her situation at such a young age.
"Before my stroke, I had no idea that young people could have a stroke, or that I was at risk of having one," she said.
The underlying causal factor for Letisha's stroke was Patent Foramen Ovale (PFO) which is a hole in the upper chambers of the heart. Multiple blood clots had escaped through the hole and travelled up into the brain.
"I felt very isolated in my experience, as I didn't know anyone else who had a stroke as a young person. I had no one to relate to or connect with. I felt depressed with the feelings of being alone and grieved the loss of my old life before my stroke," she said.
A saving grace for Letisha was finding other young survivors of stroke to connect with. She formed new friendships through online stroke groups and found support with people who understood her new challenges.
"I found purpose in my life after stroke by helping others and embarked on a mission to empower those whose lives have also been impacted by stroke," said Letisha.
She connected with the Stroke Foundation and volunteered on the Young Stroke Project, and also contributed blogs and podcasts to the Young Stroke website and Enable Me website.
Letisha has also compiled a book titled Finding Yourself After Stroke, which features 26 stroke survivors who openly share the lead up to their stroke event, diagnosis, rehab and life after stroke. The book has become a resource to not only stroke survivors, but also allied health professionals, students, researchers, and those working with stroke patients from acute care to community care.
Letisha has been nominated for the Stroke Foundation's Improving Life After Stroke award for her contributions to the Stroke Foundation and for compilation of this insightful book. She is now taking her plans for support even further by studying a Diploma of Mental Health, so she can offer psychosocial recovery coaching for young stroke survivors.
Letisha shares her advice to other survivors of stroke:
"Quiet your mind and give yourself time to recover, time to adjust to life after stroke. Reach out and connect with others, have patience and be kind to yourself."