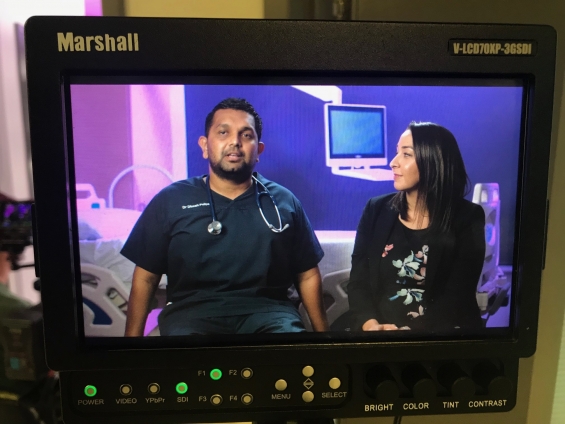 Gold Coast Health has been recognised as a champion of diversity and inclusion through a national campaign to encourage other employers to make their workplace more accessible for people with a disability.
Junior House Officer Dr Dinesh Palipana and Diversity and Inclusion Advisor Ebru Dogan feature in the Job Access – driving disability employment campaign.
Dr Palipana, who became paraplegic following a car crash, is passionate about helping his patients and has worked with Job Access to secure a suitable electric wheelchair to get around Gold Coast University Hospital.
"I love my job, I don't really think of it as a job actually, I just come to the hospital and do something fun," he said.
"I think there are some challenges. I work things through enough to make work natural. But it's more little annoyances like reaching a high shelf, or trying to grab something that I can't.
"My co-workers have been really amazing. If I have difficulty doing a procedure or something that I can't do manually I just ask a colleague and they've almost uniformly been happy to help."
In an online video, Dr Palipana explains Job Access helped him acquire a wheelchair that's maneuverable and able to get into tight spaces in his clinical work area.
One in five Australians lives with disability.
Last year Board Chair Ian Langdon launched the Gold Coast Health Diversity and Inclusion Strategy (2017-2022) and Action Plan (2017-2018) to broaden the workforce. Currently, we employ 120 people who identify as having disability.
The strategy and action plan target those who are older, those with disabilities and people who for various reasons have not been able to fit into the workforce previously.
"We have an obligation, and in fact a need as Gold Coast Health, to provide opportunities for these people to participate in our workforce," Mr Langdon said.
"Because through participating in our workforce, we become stronger, we become an organisation that better reflects the community."
Gold Coast Health partners with Epic Assist to place people with disabilities. Recently three men and three women started work in Environmental Services in roles such as laundry officers, water quality and auditing officers.
As part of its Diversity and Inclusion Action Plan, Gold Coast Health promotes to its staff and patients, and celebrates, significant events such as Harmony Day, Closing the Gap Day, RU OK Day, Disability Action Week, Pride Day and Mental Health Week.