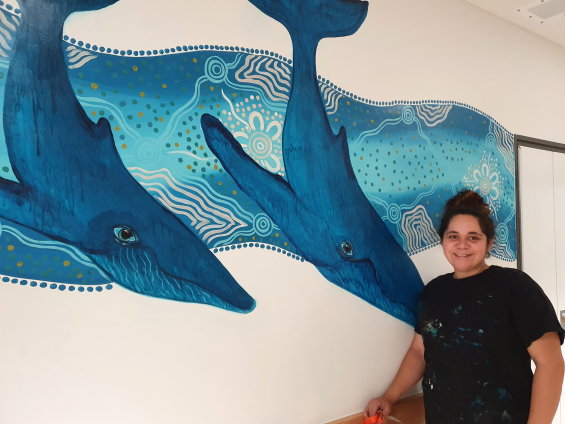 Gold Coast artist Melony Gordon drew on both her indigenous heritage and Lived Experience when she was invited to bring her creative flair to the Crisis Stabilisation Unit at Robina Hospital.
Melony and her Father and Mentor, Tony Gordon (also an artist), worked together to create Yalburro'angabah – a place to become happy/content. The murals have transformed the corridor, waiting area and outdoor courtyard to create a more modern, soothing environment for patients dealing with mental health issues.
Her own struggles with PDSD and panic attack disorder helped Melony understand the power of art as therapeutic and healing.
"It has been so satisfying working alongside people with similar issues to help them feel comfortable and relaxed.
I really hope these spaces will help take people to familiar places that trigger happy memories and experiences," she said.
Melony's rainforest design in the courtyard was inspired by her own country, centred largely around Mount Tamborine. "The mountain was a healing place, a tribal hospital, so it is fitting that some of that rainforest environment is reflected here.," she said.  A tranquil ocean themed colour palette has been introduced throughout the interior spaces, including the emergency room.
Melony, who started as a hobby painter before successfully entering works in the Gold Coast Health Artbeat Festival art competition, has now been painting professionally for around two years.
"I started painting as art therapy to help myself through mental health issues, and now I'm very grateful to make a living doing what I love.
"I encourage others facing similar issues to use art as a form of medication. Do some art and switch off, support your brain's healing process. It's really helped me overcome a lot of struggles".
We've already received some fantastic feedback regarding the murals, and it's amazing to see the impact this artwork has had in such a short time:
"Over a number of weeks, the entire aesthetic of Gold Coast Health's Yalburro' angabah Crisis Stabilisation Unit has been positively transformed... The recent addition of a series of mural paintings has proven a dramatic enhancement to the overall experience for mental health consumers presenting in crisis. At the same time, the artwork also improves the space for families, support people and staff. It is clear from the feedback provided by consumers in the short time since the changes have taken place, that the visual sensory environment now complements the model of service."
"Consumers have explained how the murals powerfully and meaningfully improve their experience of the environment and the mental health interventions and services that they receive. Consumers have consistently and unanimously commented about the positive effects of the artistic enhancements. They've also shared directly about how the presence of the murals has contributed to their experience of the space, saying that it has assisted them in feeling comfortable, improved their wellbeing and supported a positive outcome."
"Consumers have reported that the murals and artwork have led to the entire space feeling far more welcoming, less harsh and less daunting. It has served to further smooth out the rough edges of the clinical spaces and processes.... Overall, the addition of the murals and artwork is an important part of what makes Yalburro' angabah Crisis Stabilisation Unit such a modern, innovative and more evolved mental health unit."