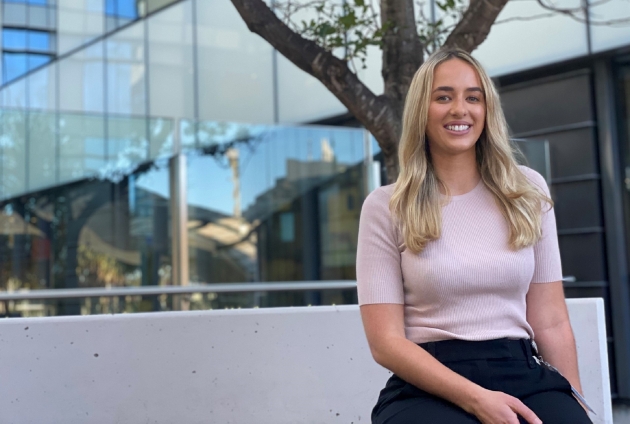 Georgia McLennan has been told all her life she would make a great nurse but the 26-year-old had no idea she would find herself as a patient while embarking on her dream career.
The then 23-year-old was studying nursing at Griffith University and was due to start a placement at Gold Coast University Hospital when she was diagnosed with stage four Burkitt's Lymphoma, a rare form of cancer.
"Everyone always told me 'you would be the best nurse when you grow up' so I really resisted that. I went and studied social work but then I realised that nursing was for me," she said.
"I started nursing in 2016 and I really loved it. I just knew it was right.
"And then in 2017, I was due to go on my first hospital placement and it was in C1 East which is in haematology and oncology here at the hospital.
"I was diagnosed with cancer and I was admitted to that ward on the Friday. On the Monday I was supposed to be starting the placement."
Georgia spent the next four months as an in-patient and out-patient at GCUH being treated with chemotherapy but despite the side effects, continued to work towards her dream of caring for people.
"It was so weird. I would be in the hospital, they would disconnect my chemo and I would run across the road and do an exam and run back," she said.
Georgia used the time spent in hospital to prepare for her nursing career.
"I felt like I learnt so much about nursing as a patient. I felt like it really aided my learning and will make me a special nurse because I understand what it feels like to be a patient from so many angles," she said.
"Being here for that long you go through what it feels like to be an outpatient, coming to appointments, going to scans, going to emergency, being on the ward, having biopsies.
"I kind of got to feel what it would feel like for my patients and how the whole medical team can really affect someone's time. I'm glad that I can apply that to my patients going forward."
After her treatment, Georgia went on to finish her degree and started as a Graduate Nurse at GCUH this year.
"I loved this hospital so much. Because of the way I was treated and because I saw them as saving my life and every interaction I had here was a positive one, I just had this dream of working here," she said.
"I just kept holding on to the hope that I would one day get a job here.
"I just felt overwhelmed with gratitude that I was alive and that I got my dream job and I felt really proud."
It wasn't nursing in oncology that drew Georgia for her grad year. She has spent most of this year working in Alcohol and Other Drugs in community health.
"I just felt like it fit right for me," she said.
"I really feel like that's what I love doing and I can't believe I get paid to look after people or care for people.
"I just thought honestly these people are in a group in society who are judged and vulnerable and I wanted to learn more about them and their stories.
"And all of them have incredible stories and they are very resilient people and I just wanted to be compassionate towards people who do not really experience much compassion."
Graduate Nurse and Midwifery Program
• The portal opened on Monday, 27 July for applicants for the 2021 Graduate program and closes on 21 August, 2020.
• Every year Gold Coast Health receives more than 600 applicants.
• Gold Coast Health filled 190 graduate nurses and midwife positions in 2020, including 21 midwives and 20 mental health nurses.
https://www.health.qld.gov.au/employment/work-for-us/clinical/nursing-midwifery/graduate-campaigns