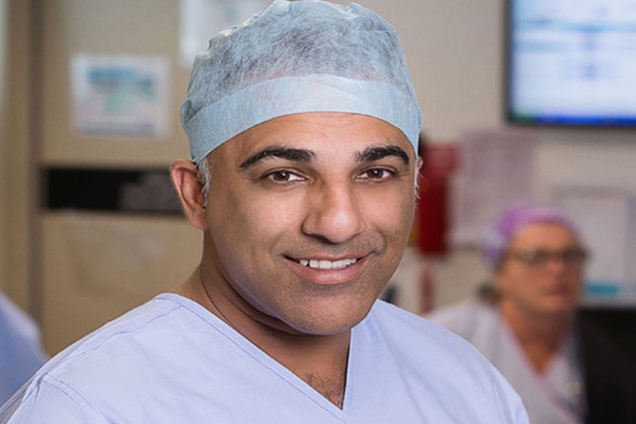 If you watched last night's first episode of Gold Coast Medical, you will recognise our Director of Plastics Raja Sawhney.
Dr Sawhney featured alongside several Gold Coast Health colleagues including Paediatric staff specialist Dr Christa Bell and fellow surgeon William Butcher in the Channel 7 documentary series which captures some of the challenges and triumphs of the Gold Coast's most expert medical teams.
Dr Sawhney was highlighted in the case of patient Jemma, who underwent breast reduction surgery.
"We've had people question people whether breast reduction is a cosmetic procedure. As plastic surgeons we are very confident in our belief this is a reconstructive procedure because it's a functional problem that these patients have. They have pain and limitations to what they can do because of it," he said.
"There are also long term implications of potential spinal problems. These patients are prepared to go through major surgery to take away the weight in their breast because it is causing them significant problems."
Dr Sawhney has also continued to work with shark bite victim Matt Lee, who appeared in Tuesday's premiere episode.
"That was the first major shark bite I had seen and we had a flurry of them in the space of a few months, so we came to learn a bit about how sharks attack," he said.
"Matt was the youngest of that cohort of patients. In his most injured leg, the nerves that supply the muscles and sensation to the lower part of his leg below his knee had been divided.
"My colleagues and I really had a dilemma as to whether we should go ahead and repair the nerves and try to give him a functional leg back.
"I'm very happy to say Matt now has very good functional return of his muscles down his leg and has sensation down to his ankle. He's got good muscle power in his leg, is walking without aid and doing a lot of the activities he used to be able to. That's the challenging nature of some of work that becomes so rewarding."
Tune in to see more of the dedicated Gold Coast Health staff in action on the second episode of Gold Coast Medical next Tuesday at 8.40pm on Channel 7.
Pic Caption: Gold Coast Health Director of Plastic Surgery Raja Sawhney