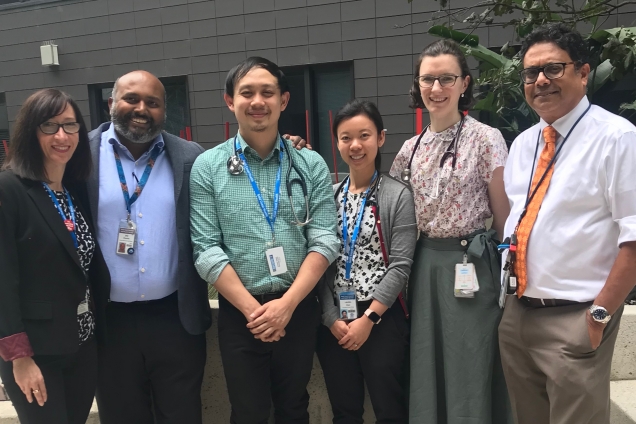 Junior doctors from two important specialty areas, emergency medicine and internal medicine, at Gold Coast University Hospital and Robina Hospital have outperformed their counterparts in their final examination results.
More than 80 percent of Gold Coast Health's doctors passed their gruelling fellowship exams with the Australasian College of Emergency Medicine and the Royal Australasian College of Physicians compared to an average pass-rate of around 60 percent.
Dr Jeremy Wellwood, Gold Coast Health's Executive Director of Clinical Governance, Education and Research said doctors were attracted to Gold Coast Health to prepare for these crucial exams.
"We have achieved high pass rates for both fellowship and primary exams which attracts registrars to seek employment here so they can access our preparation programmes," said Dr Wellwood.
"In emergency medicine, 10 of the 12 registrars that prepared for the examinations with us passed and one of them was awarded the fellowship prize for the highest mark.
"Leading up to the exam, more than 25 doctors from South East Queensland and Northern New South Wales took part in practice exams as part of a program that has been running at Gold Coast Health for the past five year."
Dr Wellwood said the results in internal medicine were just as impressive with 13 out of the 16 doctors from the Coastal network of hospitals which included Gold Coast University Hospital, Robina Hospital, Logan Hospital and Redlands Hospital qualifying as specialist physicians.
"Training to become a medical specialist is long and arduous. After completing medical school, doctors join the hospital as interns before embarking on a five to seven-year journey of extensive training and primary exams to becoming a registrar and ultimately undertake their fellowship exam," he said.
"We recognise the long hours our doctors put in to their professional development at the same time as caring for patients.
"The physical and mental wellbeing of our doctors is a priority and we have a number of initiatives to help young doctors balance their study, work and life commitments."
Pictured from left to right are Physician Education & Training Coordinator Angela Wieser, Senior Staff Specialist & Director Medical Registrar Unit Dr Siddharth Sharma, Basic Physician Trainees Dr Jonathan Chin, Dr Laurel Chan, and Dr Camille Savoia, and Senior Staff Specialist and Director Physician Education Prof Selvanayagam Niranjan.