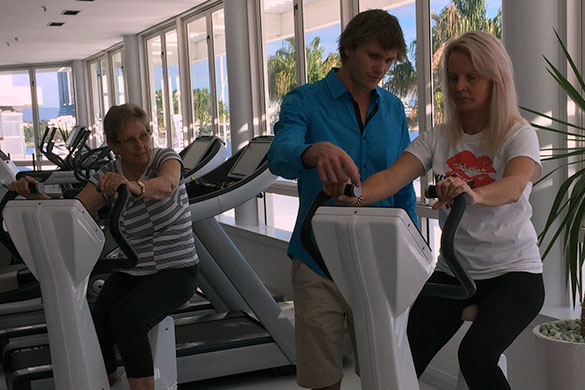 Gold Coast Health Multiple Sclerosis client Jo Smith is finding new strength in an innovative program which takes her out of the clinical setting and into the community.
Mrs Smith is one of more than 65 people attending the MS Fitness Program, a partnership between Gold Coast Health, MS Queensland and Queensland Health that incorporates off-site
sessions as a way to link people with MS with their community.
MS Fitness Program Coordinator Grant Turner said the innovative approach to therapy had already given clients the opportunity to take part in deep water running, aqua aerobics, tai chi, yoga and pilates.
"For us it is about building not only their cardio endurance and strength, but also to give them the confidence to go out into the community," said Mr Turner, an accredited exercise physiologist.
"We know exercise can provide many benefits for people with MS. It helps maintain or improve joint flexibility, muscular strength and cardiopulmonary endurance as well as helping to manage fatigue and much more."
MS is a neurodegenerative condition that affects the central nervous system. Symptoms can range from fatigue, balance and coordination problems, pain, altered sensation, cognitive and emotional disturbances and more.
Mrs Smith is currently one of 16 clients benefitting from a partnership between Gold Coast Health and Milon Premium Health Club, which has offered use of its Marina Mirage gym and equipment with unique tracking abilities.
Diagnosed in 2003, the grandmother counts herself as one of the "lucky ones" as she has the ability to walk unaided, although she does tire easily.
"I probably would have avoided a gym if it hadn't been for this program," Mrs Smith said. "I've surprised myself actually. I've increased my strength by 50 per cent.
"I've noticed I've got more stamina. I can still get out in the backyard with the grandchildren and play football."
Participants in the MS Fitness Program are assessed by Mr Turner and a physiotherapist to identify deficits in strength, range of motion, balance, gait, fatigue and other indicators before an individualised program is developed for their specific needs.
Regular sessions at Helensvale Community Health and Robina Health Precinct are a mix of resistance exercise for the upper and lower body, core-based, balance and aerobic-based exercise. Clients also have access to a multi-disciplinary team, individual consultations with an
MS Queensland physiotherapist and a support group that meets monthly.