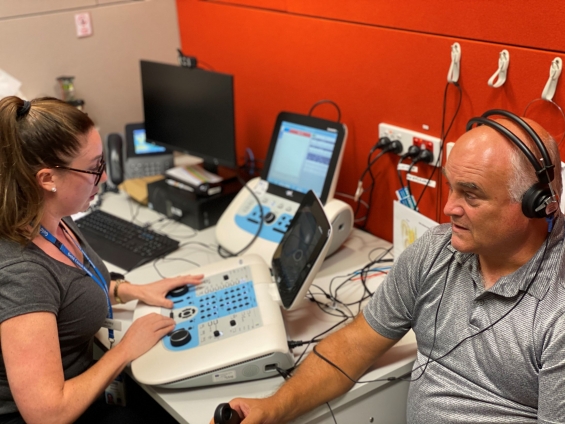 Patrick Scala's hearing loss was impacting on his life so much, it even prompted his children to give him a nickname.

"The kids were telling me for ages, 'you are going deaf Dad' and they used to call me 'Hey' because that's what I said all of the time," Patrick said.

The after a decade of noticing the hearing in his left ear was deteriorating, the 55-year-old took action.

"I was walking past a hearing testing place and a lady asked me if I wanted a test and I said 'why not' and it started from there," he said.

"The man testing me said I had a problem and I needed to go and get it fixed."

An ear, nose and throat specialist discovered a growth blocking Patrick's right ear drum. It was operated on at Gold Coast University Hospital in December. Patrick's hearing
has now returned.

The Surfer's Paradise resident said regaining his hearing had made a huge impact on his quality of life.

"Just to be able to listen to the grandkids when we are on Facetime, it's made a big difference," he said.

"Before, when I was in a group, I couldn't understand what people were saying. I was lip-reading and trying to gauge what they were saying.

"The TV was going up, the radio was going up but it wasn't until my wife reminded me to ring my granddaughter for her birthday and I didn't hear her that things clicked.
"My granddaughter had to ring me and say, 'Pop, you didn't call me for my birthday'."

In Australia, almost 4 million people have some form of hearing loss. This continues to grow as our population ages.

This Hearing Awareness Week (1-7 March), Patrick is encouraging others who have noticed hearing loss to get tested.

"You think it'll come back but it doesn't, it just gets worse," he said.

Gold Coast Health advanced audiologist Jennifer Eakin said people should consult with their GP or health professional if they noticed changes in their hearing.

"There are some medical treatments for hearing loss that are time sensitive," she said.

"If you do need to consider a hearing aid to help with communication, the longer you leave it, the harder it can be for your hearing system to adapt to the amplified
sound."

Patrick says he can't thank doctors enough for giving him back his hearing even if there is one small downside.

"I can't say to the wife now, 'I didn't hear you'. That's gone out the window."