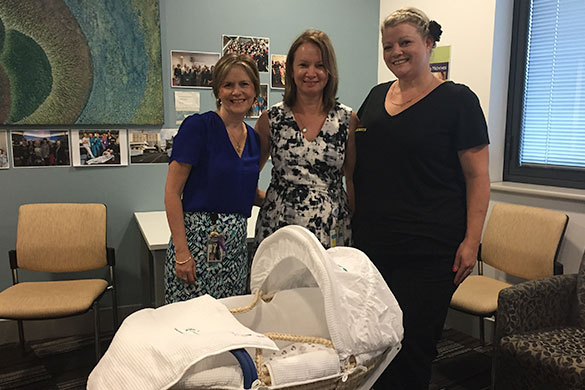 Selena Wool is drawing on her experience of losing a child during pregnancy to help Gold Coast families in their own time of need.
The mother-of-one has donated a $5500 cuddle cot to Gold Coast Health's Maternal Fetal Medicine service, which provides specialist care for pregnant women and their partners and families whose babies have been diagnosed with a fetal abnormality.
A cuddle cot, which has a temperature-controlled mattress, allows parents to spend time with their baby after they have experienced pregnancy loss.
Gold Coast Health Perinatal Loss Coordinator and Clinical Midwife Jo Everingham said the equipment allowed families additional time to grieve and say goodbye to their little one.
"This is the time when parents can build those memories. It is their only chance to parent their child," Ms Everingham said.
"The cuddle cot is a practical way to help families experiencing these tragic events. We work with them by giving them coping mechanisms to manage the emotional aspect of their grief."
Mrs Wool and husband Nathan were compelled to fundraise after using a cuddle cot when their third child died at 23 weeks in utero.
It was their second experience of pregnancy loss, with a cuddle cot not an option when the couple lost twins early in Selena's second trimester.
"We really understand the value a cuddle cot can bring to a recently bereaved family," she said.
Mr and Mrs Wool started their fundraising project Little Lionhearts two years ago and have so far purchased three cuddle cots, with the first two donated to hospitals in Brisbane and Townsville.
Maternal Fetal Medicine Clinical Midwifery Consultant Tionie Newth said the new cuddle cot was a valuable resource that would help the team provides holistic and family-oriented care.
Almost 4800 babies are born at Gold Coast University Hospital each year.
Gold Coast Health introduced a specialised Perinatal Loss Service last year to look after families through diagnosis, birthing and after care. Two dedicated experienced midwives deliver expert advice and support for women and families experiencing perinatal loss.