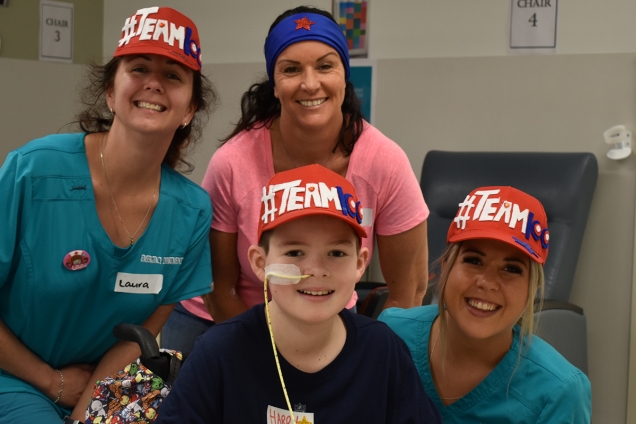 More than 100 potential bone marrow donors will join the national registry today as Gold Coast Health celebrates an international campaign to raise awareness of the importance of marrow donors.
Health workers and police have been inspired by Harry Hunter, an 11-year-old boy receiving treatment for Philadelphia +ve Acute Lymphoblastic Leukaemia.
Paediatric Emergency Staff Specialist Dr Christa Bell said #team100 aimed to recruit potential stem cell donors to the Australian Bone Marrow Donor Registry and raise awareness of World Marrow Donor Day on 15 September.
"We've set aside clinical space within the health service today where we'll take a simple blood test from people meeting the eligibility criteria.
"We've had an overwhelming response so far with 116 of our health workers and members of Queensland Police Service and Harry's school community booking in. We've got space for 28 more appointments."
Bone marrow is the soft tissue found inside bones. If bone marrow is damaged or destroyed by disease or blood disorders, a stem cell transplant from a matching donor is the only possible treatment for many of these people to save their lives.
Young Harry's leukaemia was diagnosed 18 months ago. He has responded well to intense chemotherapy treatment which has wreaked havoc on his resilient body. He is now in remission and is looking forward to being able to walk again.
"I don't think any of us have seen or met such a courageous young man," Dr Bell said.
"If the leukaemia returned Harry would need a bone marrow transplant and despite searching the world bone marrow donor bank, Harry does not yet have a matched donor," Dr Bell said.
Dr Bell said in Australia 350 people with a serious illness have a stem cell transplant from an unrelated donor each year.
"We want all people who need a bone marrow transplant to be able to find their match.
"We're encouraging all eligible people between 18-45 to join the registry, this is particularly important for people of mixed race or ethnic minorities as there are less available donors," Dr Bell said.
Harry's mother Tash said raising awareness of the marrow registry would help save lives.
"If our story helps others, particularly if it means out of these 100 people we get a donor for somebody whether they're in Sydney or in Ukraine, then we've won," she said.
QPS Inspector Owen Hortz said cancer impacts not only the victim but their whole family.
"Harry's dad Paul is a police officer and when something like this happens to one of our own we rally together to support our police families in need.
"In this case police officers from diverse areas, many of whom don't even work with Paul, have stepped up to try to help, not only for Harry, but others in the community that are in need of a bone marrow transplant," Inspector Hortz said.
"In the face of such a terrible disease it is wonderful to see so many people rallying together to help others who are less fortunate and don't enjoy the health we so often take for granted."
September is also Childhood Cancer Awareness Month.
How bone marrow donation works:
Complete a donor enrolment form, which includes questions to confirm eligibility.
A sample of your blood will be taken and your tissue type recorded in a national database.
The Australian Bone Marrow Donor Registry won't usually contact you unless you are identified as a potential match for a patient.
Your name will stay on the register for as long as you wish, however donors are retired from the registry on their 60th birthday.
For more information, visit Australian Bone Marrow Donor Registry