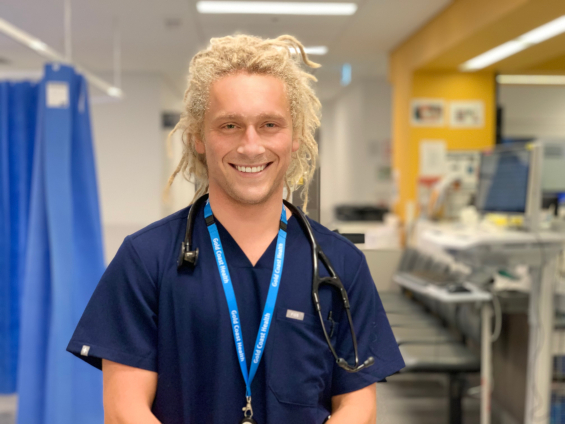 Canadian Grattin Cox is a medical intern who has been working as a doctor at Gold Coast University Hospital for the past seven months and more recently in our Surgical Specialties ward.
The ward cares for complex head and neck, ENT, maxillofacial injuries, general gynaecology, gynae-oncology, urology, and plastic surgery patients.
It's here that his interactions with the urology team and the many men being treated for prostate cancer, spurred his fundraising efforts. The eye-opening experience inspired Dr Cox to shave his much-loved locks (which he has not cut for 8 years) and donate more than $1,500 he has raised to date on GoFundMe.
"I have toyed with the idea of chopping the mop off for a while now but could never bring myself to actually do it. I needed something to help me commit and this is it," Grattin said.
"I had no idea how prevalent prostate cancer was and never fully appreciated how life-altering the treatment options could be. Surgery, radiotherapy and hormone therapy commonly leave men with erectile dysfunction and loss of libido, among other side effects, in exchange for an extension of life.
"Despite being much more common in the community than any of us might realise, it is rarely talked about and lots of men suffer in silence.
"I have decided to shave my head to bring awareness to the lesser talked about issues associated with prostate cancer. Of course, my situation is not comparable, I don't have to choose between my hair and my life. I do believe that cutting off my hair symbolises the loss of self that many men experience over the course of their treatment.
"I hope that we can have more open conversations, so that men may feel a little more comfortable in sharing their burdens and finding support when needed."
Grattin is one of many in our team who are passionate about helping our community. In fact, the wonderful nurses and staff from Surgical Specialties will be donating the proceeds of a raffle ahead of International Prostate Cancer Awareness Month in September.