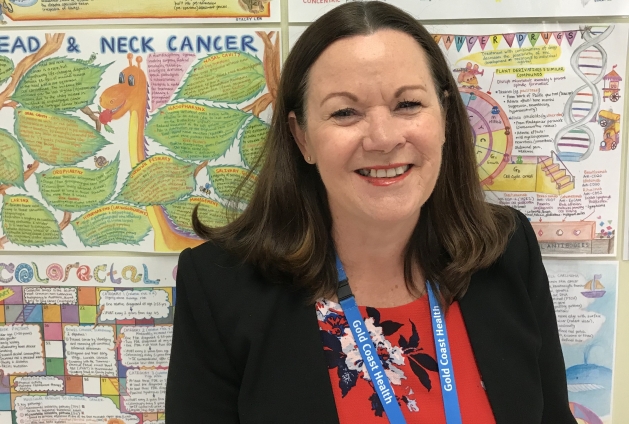 Cancer Nurse Consultant Debbie Farrell knew she wanted to work with Oncology patients in her Graduate year.
20 years after embarking on her career, Debbie continues to build on her valued clinical skills and experience as she supports Gold Coast Health head and neck cancer patients.
Based in the Cancer and Blood Disorders Service, Debbie says she feels very lucky to be in a position to help people.
"I've been in this hospital for 20 years. I've nursed since I was 21 but I became a Registered Nurse at Griffith University and one of my last rotations was the old 9A ward which was an Oncology/Haematology ward. I remember feeling the day I walked in this is the right place for me," Debbie said.
"I really felt my niche was in cancer and I just keep feeling that, you know, it is the best place to do the best I can and I am rewarded every day with our patient care and the interactions I have with them and the staff.
"I have been very fortunate. I've taken opportunities and been given opportunities to act in different roles and I've certainly studied as a lot of nurses do now. I work with a fabulous team in care coordination. We all help each other and learn from each other and the patients – it's amazing what they teach you."
Debbie says head and neck cancer patients go through about seven weeks of intensive radiation and chemotherapy.
"Of course, this affects the areas of taste, and swallow and patients are often very debilitated from the toxicity and symptoms of the treatment," she said.
"These patients are usually in recovery for a couple of months. I see them patients each week as they travel through the health service and we look after them with the medical and radiation oncology teams and allied health. Together we get them through.
"We are so specialised now as nurses. I think every nurse will look after a cancer patient in their career whether it's maternity, the emergency department or other wards."
Debbie recently featured as a Cancer Nurses Society of Australia's 'Member of the Moment'.