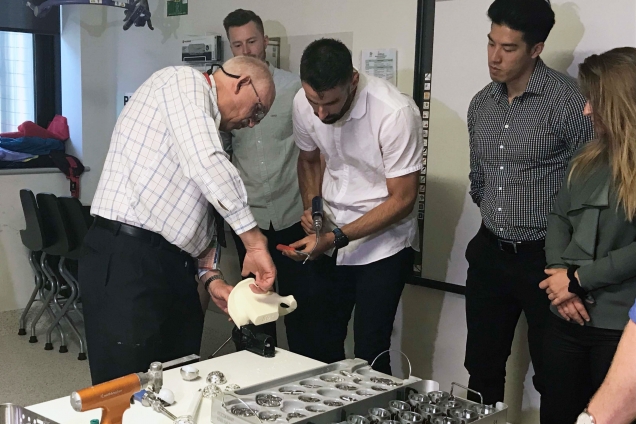 Almost 20 of the country's top medical students are on the Gold Coast to learn techniques and skills from some of Australia's best orthopaedic surgeons.
The Australian Orthopaedic Association Undergraduate Workshop brings together future doctors for a five-day program of sessions where they will learn bone healing and fracture fixation principles, how 3D printing is changing clinical practice and trauma simulations.
The 19 attendees are from 19 universities from across Australia and include local medical students Hayman Lui from Griffith University and Aanjaneye Sinha from Bond University.
Gold Coast Health Staff Specialist Professor Randy Bindra is among the highly-regarded clinicians to share their skills and experience with the younger generation.
"Gold Coast University Hospital was purpose-built with state-of-the-art training facilities and we always welcome the opportunity to share our wealth of knowledge with the doctors of tomorrow, so they can deliver the best health care to patients in the future.
"But it's not all about the technical ability to be a clinician. These students will hear from other experienced doctors from our health service on important topics like resilience and wellness, leadership and a whole lot more," Prof Bindra said.
Australian Orthopaedic Association has been hosting the annual Undergraduate Program since 2004 at various teaching hospitals across the country.
The organisation's President Andrew Ellis said the innovative learning experience was designed to provide students with an insight into orthopaedics as a surgical specialty.
"We have designed the program around simulated practical orthopaedic experiences traditionally not covered in medical school curriculums.
"We're very fortunate to partner with industry sponsors to offer these students real-world workshops which include saw bone plating, drilling and arthroplasty simulations," Dr Ellis said.
Many attendees secured the chance to attend the program by demonstrating outstanding performance in their studies – universities often provide the Undergraduate Workshop as a prize to a stand-out student.