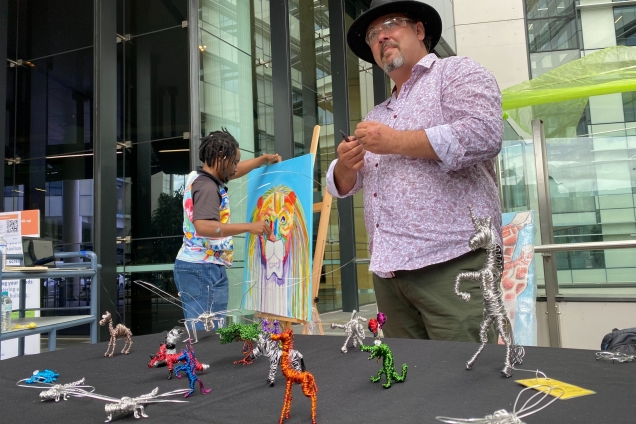 A main event in the Gold Coast Health calendar is in full-swing as the health service celebrates the creative strengths of people living with mental health illness for Queensland Mental Health Week.
'ArtBeat' Music and Art Festival director Madeline Bridgland said with the help of technology people could still socialise, listen to live music, see artworks and celebrate positive mental health at the week-long Gold Coast University Hospital (GCUH) event.
"ArtBeat is known for its ability to bring people together and in light of the global pandemic, taking time for our mental health is more important than ever," Madeline said.
"With many still experiencing the impacts of social distancing and isolation, the health service is determined to keep promoting the importance of positive mental health.
"For example, we launched a digital showcase of consumer created music and art as a 'pop up' cinema, and the Gold Coast Health official Instagram account has been leveraged for an ArtBeat 'artist takeover' with daily videos profiling participants."
Madeline, who is also the Gold Coast Health Creative Health Hub Manager, said ArtBeat embraced people's artistic strengths.
"Many people who live with mental illness are stigmatised or their symptoms are masking their amazing creative talents," she said.
"From knit-bombing, busking and live canvas painting, to live music from the baby grand and the incredible artwork displayed in the foyer, ArtBeat gives mental health service consumers a variety of avenues to share those talents."
The cornerstone of the annual event is the art exhibition and music festival. Since 2014 people living with a mental illness have been invited to submit artwork for display or perform music.
Tim Murphy, who is also known as 'Twisted Murf', is a Gold Coast artist specialising in wire sculptures and a regular ArtBeat contributor.
As a person living with mental illness over the past 20 years, Tim describes his involvement in ArtBeat as being instrumental in his increased exposure as an artist.
"Preparing for ArtBeat for the past four years has really helped me to develop my skill and think about where I am going as an artist. The recognition has given me a lot of my drive," Tim said.