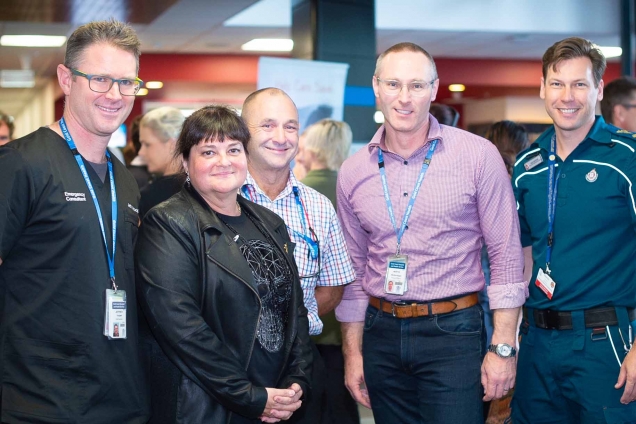 Some of Gold Coast Health's top neurotrauma teams are taking time out from the frontline to share their knowledge with more than 200 clinicians and health workers.
The inaugural Neurotrauma Symposium at Gold Coast University Hospital includes 16 guest speakers who will cover the journey of a trauma patient during the one-day event.
Symposium organiser and neurosurgeon Associate Professor Teresa Withers said the health service's trauma service had grown to become one of the top services in Australia, recruiting some of the best surgeons in the neurosciences field.
"Today's presentations are aimed at a wide range of clinicians and will start with retrieval, ED evaluation, cervical spine assessment, surgical management to traumatic brain injury, ICU management, nursing and the importance of allied health in trauma and rehabilitation.
"This event provides attendees a rare opportunity to engage with the clinicians involved with complex neurotrauma in the region and gain real-world insights into the exciting developments ahead for this field of health care," Dr Withers said.
The symposium has attracted 50 final year medical students from Griffith and Bond universities who are on placement at Gold Coast Health hospitals and who will attend as part of their professional development.
Clinicians from northern NSW will also participate via a live video link.
Dr Withers and the neurosurgery department have hosted these symposiums since the trauma service first started on the Gold Coast. However, this is the inaugural symposium at GCUH.
The 2019 Neurotrauma Symposium is sponsored by companies NuVasive, Anatomics, Medtronic and Integra-Codman.
Gold Coast Health is growing its research activity in the neurosciences area and participates in globally significant clinical trials that have improved the safety and quality of patient care.
The Neurosciences Research Collaborative Group was set up in 2017 to develop programs for research, education and training in clinical neurosciences.
"The hope for the future is that this multidisciplinary approach from education clinical management and research will help all our patients achieve better outcomes," Dr Withers said.