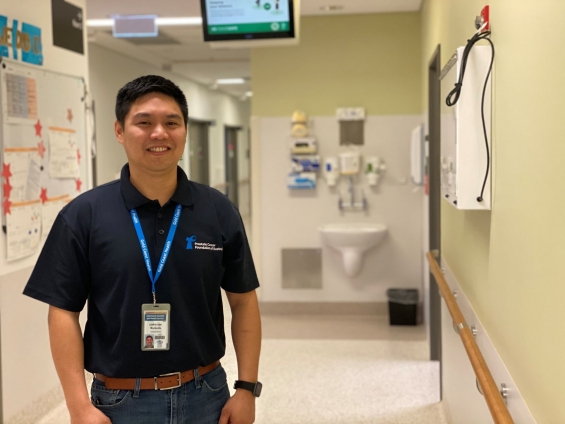 Gold Coast men with prostate cancer now have access to specialised support, following the appointment of the region's first-ever Prostate Cancer Specialist Nurse at the Gold Coast University Hospital.
The new nurse, Christian Morqueda, will be part of Prostate Cancer Foundation of Australia's Specialist Nursing Service, helping to improve outcomes for local men impacted by the disease.
Gold Coast Health Acting Assistant Director of Nursing, Cancer and Specialty Services, Renee Woodfield welcomed Prostate Cancer Specialist Nurse Christian Morqueda to the role.
"About 500 men on the Gold Coast are diagnosed with prostate cancer each year, and many of them will need ongoing care and support in the days, months and years after treatment," Renee said.
"The appointment of Christian will vastly improve the support available to local men and families impacted by the disease, giving men much greater confidence that they can navigate the challenges of prostate cancer with all the support they need.
"We're proud to partner with Prostate Cancer Foundation of Australia to deliver this life-changing service."
Christian said he found his nursing niche working in oncology and this new role would combine that interest with his passion for men's health.
"The main part of my role as Prostate Cancer Specialist Nurse is to make sure the burden felt by men diagnosed with prostate cancer and their families, a little easier," he said.
"I think most men would agree, our health seeking behaviours are different from women. I want to address that. I want make men's health more visible.
"I want men to be more vigilant with their health so that we can address problems as early as possible."
Australia has one of the highest rates of prostate cancer in the world, with one in every six Australian men likely to be diagnosed by age 85.
Prostate Cancer Foundation of Australia CEO, Professor Jeff Dunn AO, said generosity from the community has ensured that hundreds of local men will benefit from more specialised support.
"Prostate cancer is the most common cause of cancer in Australian men, with about 16,700 men newly diagnosed each year. Sadly, each year in Australia about 3,100 men will die from the disease," he said.
"About one in five men with prostate cancer experience long-term anxiety and depression and many will struggle to cope with the challenges of diagnosis and treatment. Specialist nurses play a critical role in providing guidance, care and support.
"From the point of diagnosis, the nurse will offer expert education and information about treatment plans, referrals to services, and provide an ongoing point of contact and support for men and families.
"Good support and connection to information and services is incredibly important after a diagnosis of prostate cancer."
The role has been made possible thanks to vital funds raised at the 2019 'Wagners It's A Bloke Thing' annual Gold Coast charity luncheon where a phenomenal $400,000 was raised.
It's A Bloke Thing spokesperson Marcus Barnard said they're proud to play a role in improving health care for men on the Gold Coast.
"It's A Bloke Thing is all about raising vital funds and awareness in support of prostate cancer research, care and education. This ensures that men diagnosed have access to improved support," Marcus said.
For more information about prostate cancer, and the Prostate Cancer Specialist Nurse program, visit pcfa.org.au.