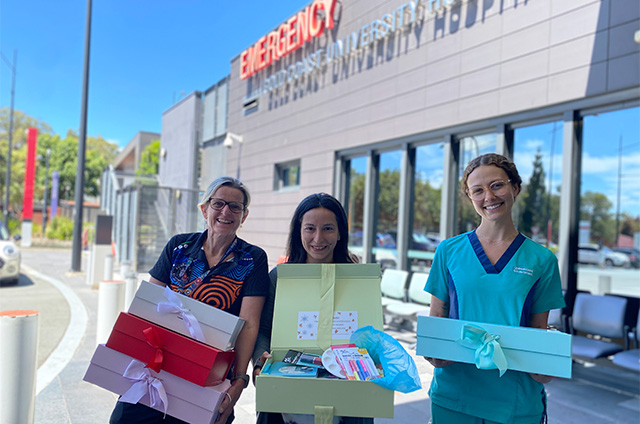 Natalie has gifted Gold Coast University Hospital with more than 60 Oli's Gift craft boxes and recently a further 28 boxes were delivered to our Children's Emergency Department.
The craft boxes are filled with care, compassion and quality items that are gifted to babies, children and teenagers who are faced with a life changing diagnosis.
The carefully crafted boxes are created by kids for kids through generous donations to the Oli's Gift charity. Natalie founded the charity in honour of her son Oli. Oli courageously battled a long and painful illness aged 7 and 8. Oli's light shines on through his family and the Oli's gift boxes.
Natalie found high quality craft and books were a way to connect and still find some magic of childhood whilst having multiple medical treatments. She coordinates these efforts along with her two little girls and the community to make the boxes.

Dr Christa Bell, Emergency Physician and Paediatrician, said it's not infrequent that a child and a family gets a diagnosis like childhood cancer or diabetes that completely changes their world.

"We gift children age-appropriate craft box and look on their faces is just so beautiful," said Christa.

"We also see children and teenagers diagnosed with eating disorders. They find the art therapy and mindfulness activities helpful and healing. It's a difficult time in their world where suddenly instead of being out and about in the community they are now in hospital."

Natalie has created new baby gift boxes inspired by a story Christa had shared about a mother who was on holidays and ended up in hospital caring for her sick child. The mother also had a baby who was celebrating a birthday and subsequently had nothing to gift her baby. Christa came to rescue with an Oli's Gift craft box.
If you would like to make a donation or dedicate a gift box, please visit Oli's Gift.