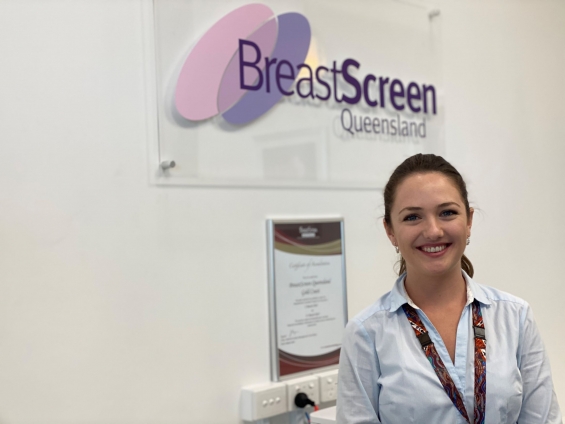 A new permanent BreastScreen Queensland clinic on the Gold Coast will help boost access to free breast cancer screening for local women.
One in seven women will be diagnosed with breast cancer by the age of 85. Finding breast cancer early can increase treatment options and save lives.
BreastScreen Queensland provides free breast screening and assessment services to ensure women have the best possible outcome following a breast cancer diagnosis and reduce the impact of this disease.
Regular screening is the most effective way to reduce deaths from breast cancer. Despite this, just over half of local women aged 50 to 74 – the age group recommended to attend screening - regularly participate in this life-saving program.
BreastScreen Queensland Senior Health Promotion Officer Julia Foreman understands many women find it a challenge to keep up to date with health checks such as their breast screen.
"Having a permanent service in Robina all year-round will make it easier and more convenient for women to find the time to screen," Julia said.
Situated within the Robina Town Centre shopping complex, the new clinic is located near other medical services up on Level 1 Arbour Lane, 19-33 Robina Town Centre Drive.
With lots of free parking available, bus stops within a few minutes' walk, and lifts and escalators close by, the new clinic will help increase accessibility to free screening for eligible women.
"We hope to see at least 4000 women visiting the Robina clinic in its first year. Already hundreds of women have had their breast screen at the new clinic within our first weeks of opening. For one-quarter of these women, it was their very first screen with BreastScreen Queensland," she said.

"Another positive of this permanent clinic is it allows us to expand our mobile service in other areas of need, as screening was previously provided in Robina using a mobile unit for part of each year."
Screening every two years is recommended for women aged between 50 and 74 where the evidence of benefit is strongest. Women can attend this free service from the age of 40.
Eligible women can book an appointment at Robina or other clinics - including Helensvale, Southport and West Burleigh - by calling 13 20 50 or online at breastscreen.qld.gov.au