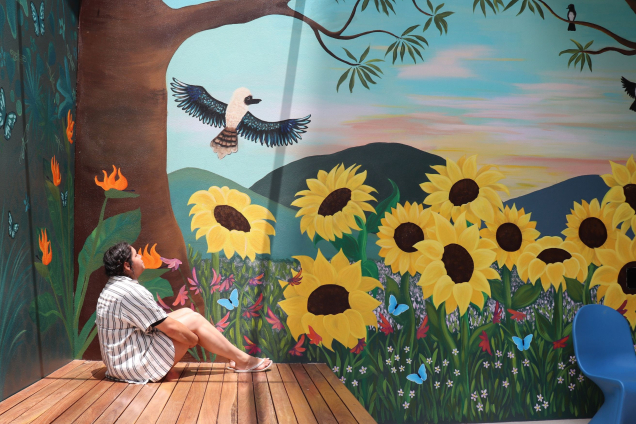 Imagine awaiting a mental health assessment within an emergency department, surrounded by stark, bare walls.
Now feast your eyes upon the stunning work of artist Melony Gordon who has drawn upon her Indigenous heritage and Lived Experience to transform the Emergency Department Mental Health Pod at Gold Coast University Hospital into a soothing sanctuary.
Her nature-themed mural is called "The Place of Harmony" and takes inspiration from the Gold Coast's picturesque coastal and mountain regions. It's designed to reduce a patient's anxiety and offers a gentle distraction.
Melony's own struggles with stress and panic attack disorders have helped her understand the therapeutic power of art.
Look closely and you'll notice 'hidden' elements. Staff can engage patients in conversation and games, such as 'Count the Butterflies", "Spot the Ladybirds", "Find the Jellyfish or Willy Wagtail".
Emergency Department Advanced Peer Worker, Titta Gigante said he has received overwhelmingly positive feedback from consumers, families and staff to the beautiful artwork.
"Some consumers spend a lot of time outside now because that makes them feel safe. I even made a bed outside on the bench in the shade the other day for one consumer," Titta said.
"Lately, I have been playing Bananagrams with consumers, sitting at the table with colourful chairs surrounded by the colourful mural. 
"The mural also provides a safe sense of connection for First Nations People."
It's not the first time Melony has brought her creative flair to Gold Coast Health facilities.
At Robina Hospital Crisis Stabilisation Unit, she worked with her father and mentor, Tony to create Yalburro'angabah – a place to become happy/content. Their murals transformed the corridor, waiting area and outdoor courtyard into healing spaces.