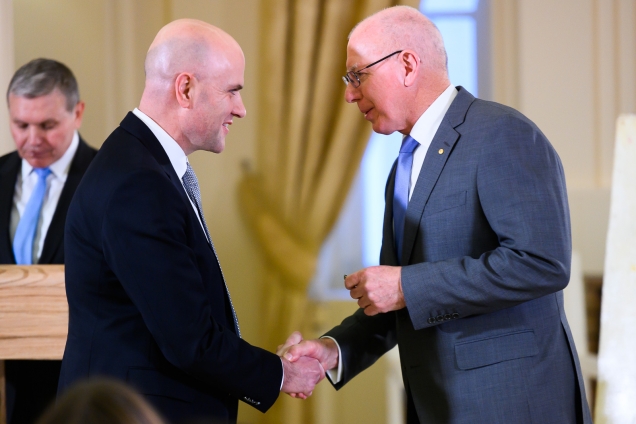 Gold Coast Health's Dr John Gerrard has received a national honour for helping to establish Australia's first ever treatment centre in an Ebola hot zone.
Dr Gerrard, who is Director of Infectious Diseases, accepted the Humanitarian Overseas Service Medal during a ceremony in Canberra hosted by The Governor-General of Australia, the Honourable David Hurley, on 5 September.
Five years ago, he spent six weeks in Sierra Leone as part of the international response to the largest Ebola epidemic in history. The outbreak went on to last almost two years and cause more than 11,000 deaths across six countries.
On 5 November 2014, the Prime Minister announced that Australia would manage an Ebola Treatment Centre in Sierra Leone. The Australian Department of Foreign Affairs and Trade chose Aspen Medical to coordinate the centre and Dr Gerrard was one of 11 clinical staff to set up the facility and care for the first patients.
Dr Gerrard described the experience as extraordinary, surreal and frightening.
"When we arrived in Sierra, the epidemic was out of control and the number of cases was increasing exponentially.
"It was our job to isolate the sick in designated treatment centres (which we were one of six), quarantine the contacts of the sick, and bury the dead in a safe and dignified manner," Dr Gerrard said.
"The multi-national, multi-agency response brought the epidemic under control and there's little doubt it helped save many thousands of lives and prevented this infection to other countries."
On a regular day at Gold Coast University Hospital, Dr Gerrard and his colleagues in infectious diseases respond to returned travellers from the tropics with unexplained fevers or other infections, and monitor the infection risk of patients post-surgery.
He said Gold Coast University Hospital was among the first in Australia to be built using evidence-based design of predominantly single-bed rooms, which has shown to reduce infection rates and allow for a sophisticated response to infectious threats should they occur.
"Infection control has become increasingly important in our modern hospitals. These days, we have a big focus on hand hygiene with alcohol-based rub and hand-washing basins readily accessible within a few metres of wherever you are in the hospital," Dr Gerrard said.
Gold Coast Health Chief Executive Ron Calvert said Dr Gerrard was an excellent example of the strong team delivering world-class healthcare to the Gold Coast community.
"Dr Gerrard showed great courage and compassion to volunteer to face something like Ebola in a low-income country where the circumstances were largely unknown.
"He has inspired us all with stories from his trip to Sierra Leone and the importance of infection control practices, which play such a big part in keeping our own patients safe," Mr Calvert said.
The Humanitarian Overseas Service Medal is awarded to Australian groups that provide service overseas in hazardous circumstances, such as war zones, peacekeeping operations, natural disaster or civil strife.
Gold Coast University Hospital was ranked in Newsweek's World's Best Hospitals 2019 as the sixth best in Australia, with Robina Hospital also making the list at position 32.