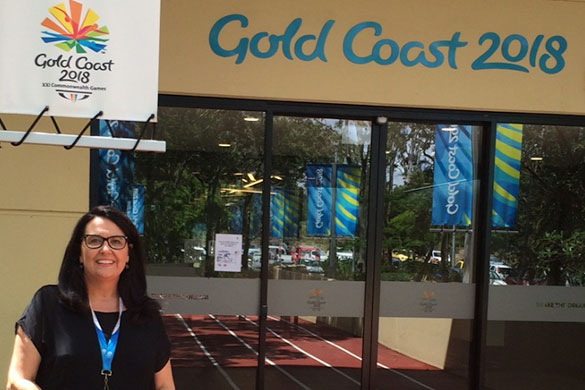 Gold Coast Health is gearing up to play a central role at the Gold Coast 2018 Commonwealth Games™ (GC2018), with key staff appointed to manage medical and anti-doping services for the world-class event.
Strategic Program Management Office (SPMO) Managing Director Kaylene Sutherland (pictured) accepted a secondment to manage the portfolio late last year.
"I will be responsible for medical and health care planning and the coordination of medical care inside all competition and non-competition venues throughout the Games; this also includes setting up a polyclinic (a mini emergency department) within the Commonwealth Games Village," Kaylene said.
"This comprises health care for athletes, spectators, Games officials, teams and the media contingent – anyone competing, attending, adjudicating and reporting on and broadcasting throughout the Games," she said.
"GCUH will be the Designated Hospital of GC2018, which means the hospital will be the referral point for acute injuries and illness from the polyclinic, providing specialist services like medical imaging when required."
"The partnership offers a unique opportunity for our staff to be involved in the Games from the outset."
Kaylene, through the Gold Coast 2018 Commonwealth Games Corporation (GOLDOC), will be working closely with Gold Coast Health over the next couple of years to ensure safe and exceptional health service delivery throughout the event.
The Gold Coast 2018 Commonwealth Games™ will be held from 4-15 April, 2018.
The Games at a Glance:
It will be the largest event in Australia this decade
About 1.5 million spectators are expected to attend of the 11 days
The Gold Coast will play host to 6600 athletes and team officials from 71 countries and territories
The economic impact of this event will be worth more than $2 billion
We will play host to 18 sports and 7 para-sports.
Stay up-to-date with what is happening with the Games at http://www.gc2018.com