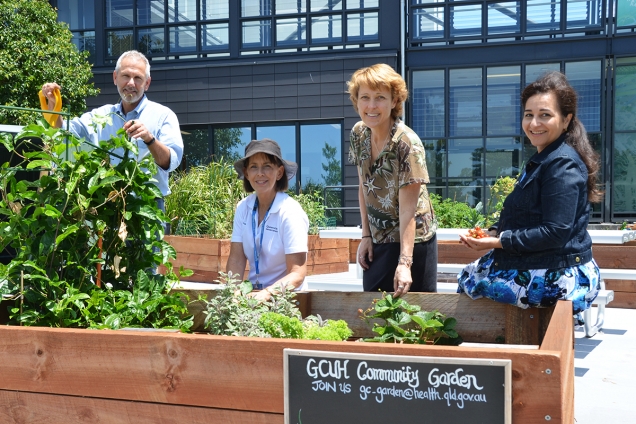 Gold Coast University Hospital is looking for budding gardeners with a social conscience to dig in and help plant, maintain and harvest an on-site community garden.
Established earlier this year the garden provides a sustainable environmentally friendly opportunity to produce nutritious herbs, vegetables and native garnishes to enhance the hospital menu for inpatients and staff through the Pulse Café.
Helen Clifford, from the Gold Coast Health garden project team, said staff volunteers watered the gardens but there was a need for a dedicated community garden coordinator and a gardener.
"These are volunteer positions which we hope will provide some members of the community an opportunity to feel social connectedness while being a part of a wonderfully sustainable initiative.
"We are looking for people who have good communication, a friendly helpful manner with the ability to work outdoors, use garden tools and apply safe work practices," Ms Clifford said.
"We have big ideas for our community garden. We hope to create horticultural therapy opportunities for in-patients as well as enhanced social connection for our staff and visitors through shared gardening."
The community garden is an initiative kicked off by a $10,000 Improvers award in 2016 to enhance patient care through innovation. This year it has been made wheelchair friendly through local business funding and not-for-profit organisation support.
For more details on the garden volunteer roles, or to apply for the positions, go to the Gold Coast Health volunteer web page at www.goldcoast.health.qld.gov.au/get-involved/volunteering or email gc_garden@health.qld.gov.au