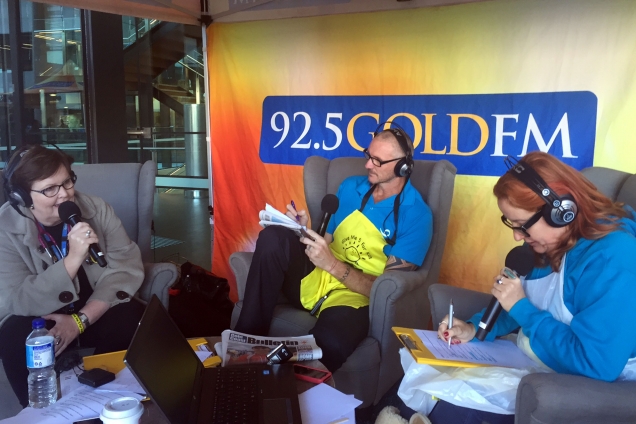 The annual donation drive to buy medical equipment to help sick children will come to a close on Friday 23 June when Gold Coast University Hospital (GCUH) hosts local radio stars for a live broadcast.
GOLD FM's breakfast announcers Bridge and Spida will wrap up this year's Give Me 5 For Kids appeal, which fundraises to support children's wards at GCUH and Tweed Hospital.
In 2016, the Give Me 5 For Kids appeal helped buy lifesaving items for GCUH patients through the Gold Coast Hospital Foundation, the official community charity of Gold Coast Health.
Equipment purchased included:
a C-MAC Video Laryngoscope ($47,000) which improves the safety of intubation in critically unwell children
a Drager Jaundice Meter ($24,700) which provides a visual assessment of jaundice in newborn babies to help prevent brain damage
an adjustable height baby bath ($4800) that protects mothers from possible back injury while caring for tiny newborns in the Neonatal Intensive Care Unit
a Kanmed medical baby warmer, waterbed and mattress ($6000) which are designed to provide the right amount of warmth to keep unwell and preterm babies warm, without the need of an incubator.
Give Me 5 For Kids is Southern Cross Austereo's national fundraiser which has raised almost $20 million in 20 years for more than 40 children's hospital wards across regional Australia.
Gold Coast Hospital Foundation is a community charity that promotes health and helps improve public health care through medical equipment, education, research and more.
The outdoor broadcast is at GCUH on Friday, 23 June, from 5-9am.
For more information on Give Me 5 For Kids and how to donate, visit Gold Coast Hospital Foundation.