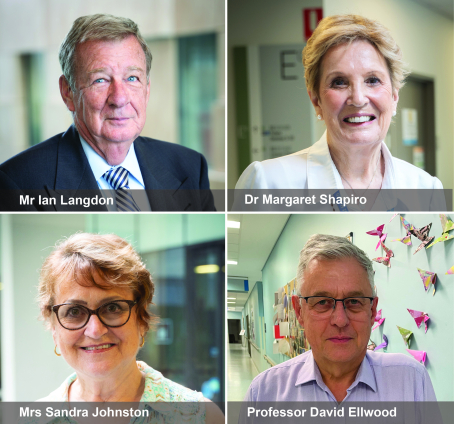 Medal (OAM) of the Order of Australia in the general division was awarded to Gold Coast Hospital and Health Service (GCHHs) Board Chair Ian Langdon for his service to the community, and to primary industry.
"I'm incredibly proud of our staff, their skills, compassion and dedication. They are the backbone of this health service, and they deliver world-class care every day. It's my honour to be the Chair of the Gold Coast Hospital and Health Service Board," Ian said.
Former Chair of the Gold Coast Hospital and Health Service Consumer Advisory Group Dr Margaret Shapiro along with current Consumer Advisory Group (CAG) member Sandra Johnston, were recognised for their service to community health.
Dr Shapiro said receiving the award for her consumer advisory work was especially rewarding.
"I have learnt so much from my experience as Chair of the CAG. Thank you for your support and kind wishes on receiving this important award. I am looking forward to continuing partnering closely with GCHHS and to the CAG meetings ahead to further support positive health across the Gold Coast," she said.
"Wow, I never ever expected to be awarded anything like this, being an ordinary person doing something I love with people I care about so much. It's such an honour, such a huge reward for doing what I love." said Sandra.
Professor David Ellwood was honoured for distinguished service to medicine as an obstetrician and gynaecologist, to research and education and to professional associations.
"I've been very fortunate in my career, as I've had lots of opportunities to do interesting things and work with talented people in big teams. While this is individual recognition, I'd like to think that it is recognition of the work I've done with the teams I've worked with throughout my career," Professor Ellwood said.
The King's Birthday 2023 Honours List recognises and celebrates 1,192 recipients, including awards in the Order of Australia (General and Military Divisions), meritorious awards and recognition for distinguished and conspicuous service.
Medal (OAM) of the Order of Australia in the general division
Mr Ian Alan Langdon
Ian Langdon is the current and founding chair of the Gold Coast Hospital and Health Service Board since 2012.
He was the chair of Autism Queensland from 2018 to 2021. Mr Langdon served as chair of Peanut Company of Australia for 10 years and as former chair of the Dairy Farmers Cooperative. He was acknowledged for his service to the community and primary industry.
Dr Margaret Shapiro
Dr Shapiro is the former chair of the Gold Coast Hospital and Health Service Consumer Advisory Group.
She is also an advocate of health literacy and was named honorary professor of social work at the University of Queensland in the 1980s. Dr Shapiro founded the '60 and Better' healthy ageing program.
She has served on many committees including the Australian Health Practitioners Regulation Agency and at Gold Coast Health on the Clinical Governance Committee and Cancer Access and Support Committees.
Mrs Sandra Johnston
Sandra Johnston created the Gold Coast Women's Cancer Support Group in 2019.
She is a member of a Consumer Advisory Group at Gold Coast Hospital and Health Services and BreastScreen Queensland. She has volunteered for numerous organisations and charities such as Lifeline, Days for Girls International and Beauties Feeling Fabulous.
Officer (AO) in the general division of the Order of Australia
Professor David Alan Ellwood
Professor Ellwood is the Director of Maternal-Fetal Medicine at Gold Coast Health and is Professor of Obstetrics and Gynaecology at Griffith University. He is also a former President of the Australian Medical Council.
Professor Ellwood was a founding member of the Australian and New Zealand Stillbirth Alliance Board and he served as chair of the Queensland Maternal and Perinatal Quality Council from 2015 to 2019.