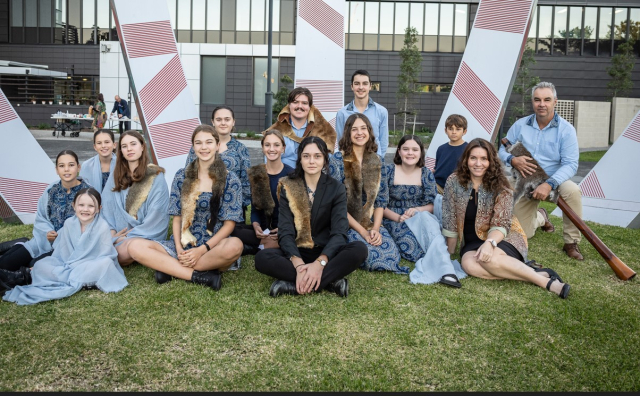 Every child born on Yugambeh Country has been gifted a revitalised version of an ancient lullaby.
The lullaby, called Yinahla, was composed by Kombumerri Elder and Songwoman Dr Candace Kruger and Kombumerri musician and producer Lann Levinge .
"It talks about a happy flock of birds that fly over, carrying dreams as they go," said Candace.
She said the lullaby is a gift to every child born on Yugambeh land which includes the Gold Coast University Hospital, Beaudesert and Logan Hospitals.
"As a spoken language, song lines are the holders of knowledge."
"First up we sing to the jarjum (children) 'yinahla yinahla yinahla' which means, sleep well, rest well.
"Kiss, kiss, cuddle, cuddle. Then we sing 'nin, nin, shh'; quieting down, good night."
Gold Coast Health's Clinical Nurse Consultant for the award-winning Waijungbah Jarjums service Nicole Tukana said the lullaby is a significant gift for women to take with them when they leave the hospital.
"When parents sing to their babies, they are sharing the culture of the Yugambeh language and playing a very important part in keeping the culture alive," said Nicole.
"It doesn't matter if our families aren't from the traditional owners of this country.
"This lullaby is a symbol that all babies born on the Gold Coast are included in the Yugambeh culture."
The lullaby was performed by the Yugambeh Youth Choir to kick off Reconciliation Week activities at Gold Coast University Hospital.
The soundtrack will be available on the Yugambeh Youth Choir web page from the end of June 2023.