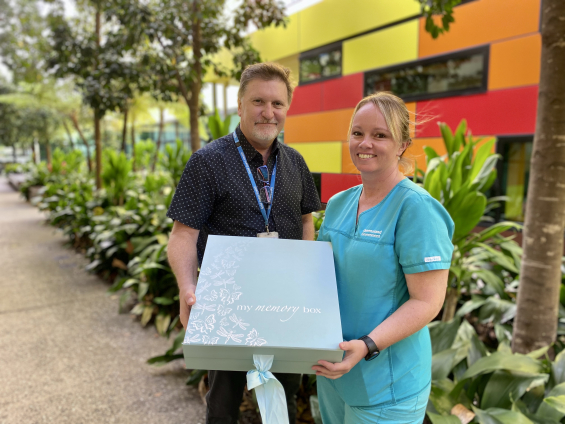 Emergency Department nurses at Robina Hospital are providing support to members of the community who are faced with the overwhelming task of caring for a parent, child, friend or relative experiencing an end-of-life event.
Memory boxes are gifted to the families of patients to help assist them through the difficult period by encouraging connection.
The beautifully presented boxes contain a blanket, diffuser, forget me not seed pack, hand cream, soft pillowcase and a jewellery pouch.
Registered Nurse Rebecca along with colleagues Dianne and Julia created the boxes in 2020 at the height of the COVID-19 pandemic.
"The idea is to offer families comfort when they are at their most vulnerable," said Rebecca.
"The Emergency Department can be overwhelming, and we want families to feel empowered to interact with their loved ones and remember the care we provided; remember us for good reasons.
"End-of-life care is something that is a big honour to be a part of. It's something that you only get one opportunity to do, and you should do it right. In an emergency department, it can be challenging," she said.
"One pregnant lady who was losing her father told us she used the blanket from the box to make a baby's blanket for her first born," said Rebecca.
The compassionate initiative is having a profound impact on both patient families and staff.
"The feedback we've received from staff is that when you go from treating a person and then it turns into an end-of-life event, you can often feel like you're not doing enough. This way our staff feel like they're contributing something after we've changed that goal of care," she said.
The trio set up the initiative through fundraising efforts but with stock now depleted, further support is required so that staff can continue to comfort families when its most needed.