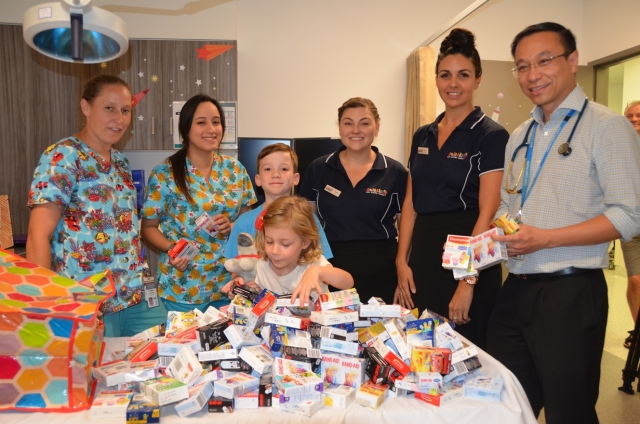 A community collection of bright bandaids will be delivered to Gold Coast Health today to help bring a smile to young patients.
It started as an idea by a young girl at Kool Kids Early Learning Centre Nerang and soon grew to involve families from across the company's 12 Gold Coast and northern New South Wales centres who collectively donated more than 200 boxes of plasters.
Gold Coast Health Director of Paediatrics Dr Susan Moloney said the bandaids would be used in the children's ward and outpatients at Gold Coast University Hospital.
"We're grateful to accept today's donation from Kool Kids. It's a wonderful concept of children helping children and I'm certain these will brighten each injured or sick child's day just a little," she said.
Kool Kids Nerang Centre Manager Tahlia Wood said a young girl came up with the idea after recently seeing a news story about a young boy with cancer who got a plain bandaid after having his blood taken.
"She thought that was no fun and wondered why the boy couldn't have fun and exciting bandaids like she gets when she hurts herself.
"It's no secret that needles are scary, particularly when you are having them every day. Kids with cancer have more needles than they care to remember. But having bright kids' Band-Aids helps children distract from the pain," Ms Wood said.
More than 5000 children are admitted to the Gold Coast University Hospital children's ward each year and in 2016 there were 13,500 appointments in children's outpatients.
Gold Coast Health estimates it uses about 2000 bandaids each year.
Caption: Jack and Evie Forde with Tahlia Wood and Sarah Roas from Kool Kids and Clinical Nurses Emma Larcombe and Stacey Zabarini with Paediatrician Dr Tung Vu.