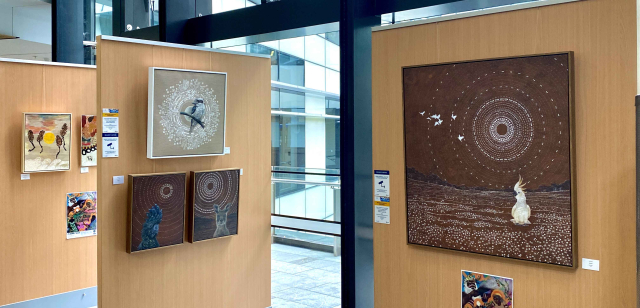 National NAIDOC Week celebrations are held across Australia in the first week of July each year (Sunday to Sunday), to celebrate and recognise the history, culture, and achievements of Aboriginal and Torres Strait Islander peoples. NAIDOC Week is an opportunity for all Australians to learn about First Nations cultures and histories and participate in celebrations of the oldest, continuous living cultures on earth.  
This year the NAIDOC theme is For Our Elders. Across every generation, our Elders have played, and continue to play, an important role and hold a prominent place in our communities and families. They are cultural knowledge holders, trailblazers, nurturers, advocates, teachers, survivors, leaders, hard workers and our loved ones. We pay our respects to the Elders we have lost and to those who continue fighting for us across all our Nations and we pay homage to them.  
Gold Coast Health's Creative Health Hub is celebrating NAIDOC Week with an exhibition, displaying the incredible work from artists Lisa Sorbie Martin, Grace Brown, Norton Fredericks, Anthony Cora and sisters Britney and Stefanie Noffke, art duo of Malara Rise. 
Lisa Sorbie Martin is from the Mua and Murray Islands in the Torres Strait and is a celebrated Gold Coast artist. Her sculptures, ceramics, paintings, textiles, designs, and public works have enthralled audiences for over two decades. Lisa's works are inspired by family, faith, the outside world, and stories of her community and culture. She hopes to enrich and educate observers and future generations with her offerings of history and culture. 
Grace Brown was born in Victoria and is a proud Wurundjeri woman. Woiwurrung is her language group and is shared by the other tribal territory groups and clans within the Woiwurrung territory. With many years of experience with different mediums and subjects, she now has dedicated her life to Aboriginal art and her culture to find herself and learn everything about her culture and dreamtime stories from her community and her Elders.  
Norton Fredericks is a queer sustainable fibre artist with Indigenous heritage born in Ipswich, currently living, and working on Kombumerri Country (Hope Island, Gold Coast). He specialises in creating wool felt textiles and using botanical dyes. After learning about how fast fashion creates and pollutes our environment with microplastics, Norton decided to change the way he creates art to be more sustainable – starting with the experimentation of natural dyes, and hand felting soon followed. Norton's work is centred around connection to Country and imbuing story in his work, which invites viewers to connect to place and think deeper about their own footprint. 
Anthony Cora grew up watching older siblings and cousins practice traditional song and dance and connected to culture through artwork. In 2011, he began traditional dancing with the Jaran Aboriginal Dancers. Since then, Anthony has been a part of several dance groups including the Yugambeh Aboriginal Dancers, Kids Caring for Country, and Bundjalung Kunjeil Aboriginal Dancers. Participation in these groups has taught Anthony about his culture from songs, stories, lore, and protocols. It was a natural progression for him to express himself through traditional artwork. He works primarily with acrylic on canvas but has also experimented with natural pigment such as clay (ochre)and natural dyes.  
Australia's colourful flora and fauna inspire Britney and Stefanie Noffke. Growing up with little culture in their daily lives, they began to increase a connection with culture through traditional dancing and have furthered this by coming together to create unique, contemporary cultural storytelling through painting.  
The exhibition is on display at Gold Coast University Hospital from Monday 3 July through to Friday 21 July.