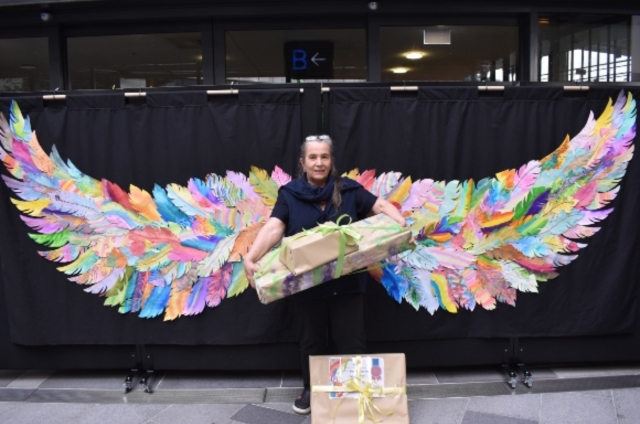 Gold Coast Health is taking time out to celebrate the creativity of mental health consumers this Mental Health Week with 'ArtBeat' in full swing at Gold Coast University Hospital.
Since 2014 the annual arts and music festival has been a colourful springboard that's launched mental health awareness and the artistic talents of consumers onto centre stage.
Mental Health and Specialist Service Executive Director Malcolm McCann said the 2021 Mental Health Week theme of 'Take time for mental health' was really hitting the right notes this year.
"It goes without saying that the past couple of years have been particularly unique in the challenges they have presented our staff and the broader community," Malcolm said.
"As health workers we are committed to patient centred-care, however it's vital our staff take time out for their own health as well so we can keep taking care of those who need our help the most.
"That why the ArtBeat event is so special. It not only supports the de-stigmatisation of mental health by giving consumers a platform to express their experiences in their own way but it's also a joyful invitation for staff to have those conversations about mental health."
Festival director Madeline Bridgland is ecstatic to be able to deliver the full program this year, including the festival signature event in the Parklands on Friday.
"This event means a lot to our consumers who work months in advance to ensure their art is ready for the exhibition – they absolutely put their heart and soul into it," Maddie said.
"This year we have another exceptional range of artistic contributions from consumers who have a lived experience with mental health illness, so please support them by taking time to see their pieces and learn about their journeys.
"And make sure you take time out for the main event from 11am-2pm Friday so you can join in all the fun of live music, food, giveaways, face painting, free mental health information and more."
Consumer Gloria Tybussek is displaying her art about rare animals at the festival for the first time.
"It's taken me a long time to come out with my paintings. I paint because it helps me overcome a battle with a mental illness," Gloria said.
"Painting lifts me up out of an unreal world. I hope everyone enjoys my paintings as much as I have enjoyed painting them."
The ArtBeat Music and Arts Festival runs from Monday 11 October – Friday 15 October.