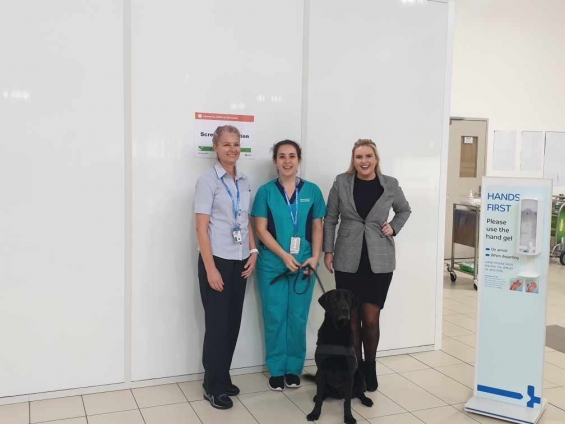 Gold Coast Health is setting up coronavirus swabbing stations in tourist spots to make it easier for the community and visitors to the Gold Coast to be tested for COVID-19.

From today, testing will be available at the Gold Coast Airport, to coincide with incoming flights; and at the Albert Waterways Community Centre (across the road from Pacific Fair Shopping Centre).

From tomorrow <Thursday>, a mobile pop-up testing facility will be available in Surfers Paradise on the Esplanade near McDonalds.

Appointments are not required at any of the swabbing sites, and the COVID-19 test is free.

The swabbing-stations will only provide COVID-19 testing and people requiring further medical attention will be referred to their GP or the hospital if necessary.

If you have even just one of the COVID-19 symptoms, no matter how mild, you should be tested. Symptoms include fever, cough, sore throat, shortness of breath, runny nose or fatigue.

PLEASE NOTE:
Make sure to visit the Gold Coast Health website for more information https://www.goldcoast.health.qld.gov.au/coronavirus-covid-19/visiting-fever-clinic-getting-tested for the most up to date information on which testing centres are operating.

Where can you get tested for COVID-19 on the Gold Coast:

Tourist centre Swabbing Stations (Free, no appointments required):
• Gold Coast Airport (daily, for all incoming flights)
• Albert Waterways Community Centre, opposite Pacific Fair Shopping Centre on the corner of Sunshine and Hooker Blvds (daily, 9am-5pm)
• Surfers Paradise Esplanade, mobile swabbing van, parked beachside across from Cavill Ave McDonalds (daily, 9am-5pm) <Note: this mobile service commences on Thursday>

Health Precinct Fever Clinics (Free, no appointments required):
• Gold Coast University Hospital Fever Clinic near the main carpark, 1 Hospital Dr, Southport (daily, 9am-9pm)
• Robina Health Precinct Fever Clinic Building (across from Robina Hospital), 2 Campus Cres, Robina (daily, 9am-9pm)