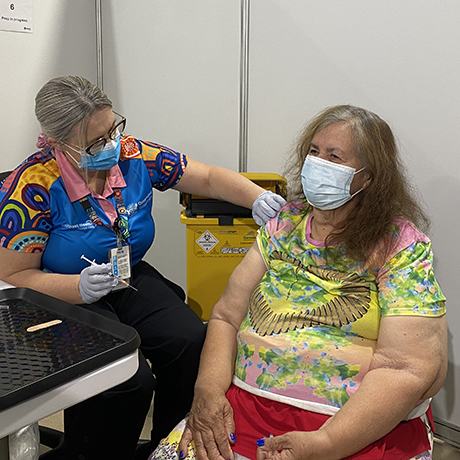 COVID-19

Banner image courtesy of Wirrim Media
Protecting you. Protecting family. Protecting community.
COVID-19 Vaccine
Vaccination is the best way of protecting you and your loved ones from getting really sick from COVID-19.
Everyone in Australia aged 5 years and over is eligible for a free COVID-19 vaccination. Community aged over 60 can choose a Pfizer (Comirnaty), AstraZeneca (Vaxzevria), Moderna (Spikevax) or Novavax (Nuvaxovid) vaccine. To be fully vaccinated you need to have 2 doses of the same vaccine. A third dose is also available to those that are 2 dose vaccinated and aged 16 years and over,
By getting vaccinated you will not only be protecting yourself from the virus, but also your family and our community. For more information, have a yarn to a health professional or contact your local GP or clinic.
Where can I get vaccinated?
The vaccines are available at:
Kalwun Health Clinics (Bilinga, Miami and Coomera)
Selected General Practices and General Practitioner-led Respiratory Clinics - Clinic Finder
Selected Community Pharmacies - Pharmacy Finder
Help stop the spread and stay safe! More information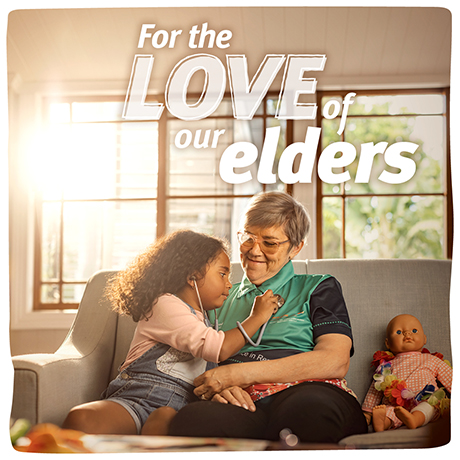 Whether you are vaccinated or not, continue to be COVIDsafe.
We all need to:
Click here for the latest COVID-19 information.
Staying healthy
Get active with Karul projects Shake A Leg series an exciting First Nations fusion dance and movement session for all ages.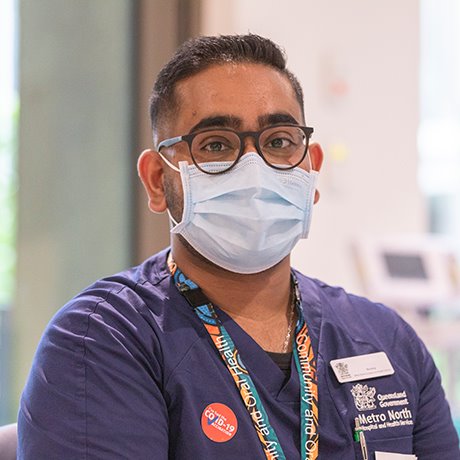 13 COVID
Anyone who needs further information or support on entering Queensland for essential medical care, exemption requests from people overseas, in a hotspot or from hotel quarantine can contact the Healthcare Support Service by calling 134 COVID (134 268).
13 HEALTH
For health advice, including on over-the-phone nurse assessment of your symptoms call 13 HEALTH (13 43 25 84).
You will be asked if you are Aboriginal and/or Torres Strait Islander and if you would prefer to speak with an Aboriginal and Torres Strait Islander nurse.
National Coronavirus Hotline
Call this line if you are seeking information on coronavirus. The line operates 24 hours a day, seven days a week. 1800 020 080.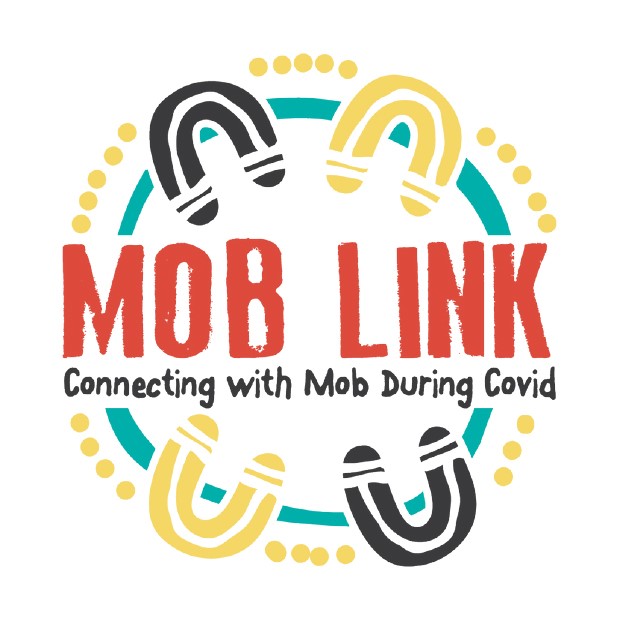 Stay Connected with Mob Link
Mob Link offer Aboriginal and Torres Strait Islander people in SEQ a range of health and social services including COVID-19 support. 
Phone: 1800-254-354 
Visit the website More information
Scan the QR code to access the Mob Link app if on desktop.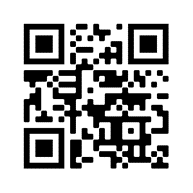 Three generations of Yugambeh women COVID-19 vaccinated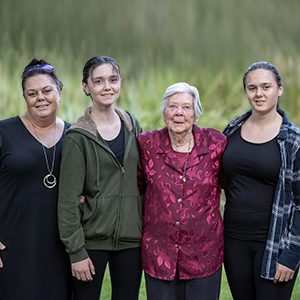 L-R Erica Eurell, Sophia Eurell, Aunty Joyce Frater, Isabella Eurell (Image Credit: Remco Jansen)
Without a second thought, three generations of the Frater family got vaccinated against COVID-19 at the Kalwun COVID-19 Respiratory Clinic to keep each other safe.
Connecting with Elders is an important routine for Aunty Joyce Frater and her strong social circle is more than a quick cuppa every fortnight. "Friends and loved ones give you such joy. I enjoy hearing what's been happening and who's doing what. It is really nice to share a story, laugh and adventure. As Elders, we keep getting that bit older and wiser, but a range of health conditions seem to pop up from time to time. Being vaccinated gave me the assurance I would not be a threat to the health and wellbeing of my friends. We all feel that it is of great importance to keep each other safe and safely enjoy our outings and gatherings."
"Seeing news images of people with COVID-19 on ventilators in hospital, is quite an alarming picture and for those recovering it seems like a long, hard journey. Once vaccinated, I felt that I would not place a burden of worry or long-term care on my family, which gave me peace of mind," Aunty Joyce said. "I am a firm believer that getting the COVID-19 jab is something we all should do. If you have any doubts or questions, I encourage you to have a chat with a doctor. I am happy to act as a role model for our young ones and promote the COVID-19 jab as a safe way to keep our entire community safe," said Aunty Joyce.
Erica Eurell is Aunty Joyce's daughter and works as a Support Officer with Education Queensland and owns a local business. "Mum has always been a social person, so it was no surprise that she wanted to get the COVID-19 vaccination as soon as possible. Protecting friends, staying safe and setting an example to younger community members is something our Elders do without hesitation," Erica said.
The Australian vaccine rollout strategy was based on a vaccination schedule defined by age and vulnerability, especially older adults and those with underlying health conditions with Aboriginal and Torres Strait Islander young people aged 12-15 were prioritised for Pfizer vaccine in August 2021.
Erica felt an urgency to keep young ones safe and made vaccination a priority. "Under 12s are not being offered COVID-19 vaccines yet, so we need to step up, get the jab and keep them safe. Working with diverse families and children who are being raised by their grandparents highlights community vulnerabilities. Getting the jab enabled me to feel a sense of doing my part to protect young ones and community Elders," she said. "My husband Dave and I have a local business, Dreamtime Artistry, which provides Indigenous experiences and products. We focus on building Indigenous youth creativity, capacity and mediums to communicate and tell their story. As a business owner in contact with many, many people, you feel the need to keep others safe. Being vaccinated is a positive for all of us," said Erica.
Isabella Eurell, granddaughter of Aunty Joyce, considered the COVID-19 vaccination information, seeking to get the facts on the vaccine before deciding it was the right decision. "Whilst I was nervous when getting the jab, I believe it was the right thing to do. Sometimes your personal ideals must be put aside for the greater good, which in this case is the health and wellbeing of our entire society," said Isabella.
For Sophia Eurell, also Aunty Joyce's granddaughter, it was the desire to travel that motivated her to get the jab. "We are a tight-knit family and a self-contained living space downstairs gives Mum the opportunity to support family with a place stay for extended periods," said Sophia. "Ultimately, I believe it is important to comply with decisions and actions which benefit the wellbeing of the entire country, but it was the desire to travel that motivated me to get the vaccination. We had family trips planned, cancelled, replanned, and cancelled again. It feels like COVID-19 has been interrupting our lives and movements for so long. When you are looking forward to a family getaway the last thing you want is for it to be cancelled, or if you are away, you don't want to face quarantine for two weeks to return home. Like, don't get me wrong, family is great, but four of us in a hotel room for two weeks… …no, I am not signing up for that.
"The COVID-19 vaccination was like all the others you have in school. I got a bit of a sore arm, but nothing that made me unwell enough to stay home. Being vaccinated is the best way to get back to doing more of the things we enjoy, so I am glad that I have had the vaccination," Sophia said.
Get your COVID-19 vaccine at a Gold Coast Health vaccination centre, or visit your GP or selected community pharmacies.
Elder leads way for First Nations community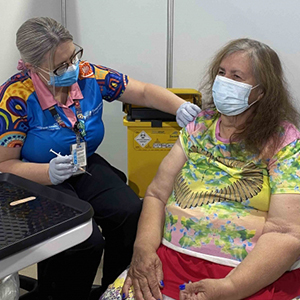 Aunty Delmae Barton receives her COVID-19 vaccination from the nurse.
Elder, grandmother and performer Aunty Delmae Barton and her son William Barton received their second COVID-19 vaccine at Broadbeach Vaccination Centre recently. Aunty Delmae shares her story:
"I was quite dubious when it came to the COVID-19 vaccine. I have had two flu injections throughout my life, the last one to protect a family member from getting sick who had an auto-immune disease as well as heart and lung conditions. After that flu shot, I was laid out for a week. I said I would never get another vaccine as I was certain that my body could not handle it. I was hearing more and more about COVID-19 and how bad it was. I started to think, what if I got COVID-19? What if I gave COVID-19 to someone? I guess, like me, no-one would want to give COVID-19 to our loved ones. What if you survived and they didn't? Terrible that would be.
"My son William and I travel as artists, performing and collaborating with many communities and fellow artists. For many industries, being vaccinated is a pathway to travel safely. Being vaccinated would mean that would be less likely to take COVID-19 to another community and I would likely not die if exposed to the virus. There is an element of reassurance in knowing I could protect others, and I suppose lead the way for community. William and I spoke to our dear friend Paula Nihot, who works for Gold Coast Health, who helped to arrange our COVID-19 vaccinations. As we were able to make the choice about which vaccine to have, we chose to get the Pfizer vaccine. We even invited our friends to get the vaccine with us, to protect our family and community. Work can take you to a lot of different places and you connect with such lovely people; this was our way of keeping everyone safe.
"Paula and William were talking about the lower vaccination uptake within the younger community. As an Elder, I encourage everyone to get fully vaccinated against COVID-19. Even if you're young, fit, and healthy, you can still get very sick with COVID-19. Getting vaccinated will help keep you, your family and community safe.
"COVID-19 has also affected how we provide for our families. The cancellation of festivals, live performances, exhibitions and celebrations has impacted the ability of artists to support their families. The arts sector, like many others, has been hard hit by COVID, and we can only open again, once we've all been vaccinated. So, it's important we get vaccinated not only for our health but to protect our livelihoods and share our culture.
"We got our jabs at the Broadbeach Vaccination Centre which was wonderful. Getting to meet the Aboriginal nursing staff administering the vaccine, made us feel at ease. Our friend, Craig, well he is more like family, joined us and received his first dose. It makes you feel good inside to know that the vaccine is protecting family. William and I didn't have any side effects. I had heard that the second dose could be worse, but not for us. We drank plenty of water and kept busy. We were participating a week-long residency at HOTA, celebrating the Art of William Robinson and collaborating with community through a yarning circle of sound and song. It was immensely special to work alongside Candace Kruger and the Yugambeh Youth learning and listening, performing, and celebrating the journey ahead. I am looking forward to being back on the Gold Coast soon. I am glad I had the COVID-19 vaccine; I feel like I have played my part in stopping the spread of this terrible virus."
Gold Coast Public Health Unit is working towards advancing health equity and closing the vaccination gap for First Nations Queenslanders and other populations.
Find out more about getting vaccinated on the Gold Coast.